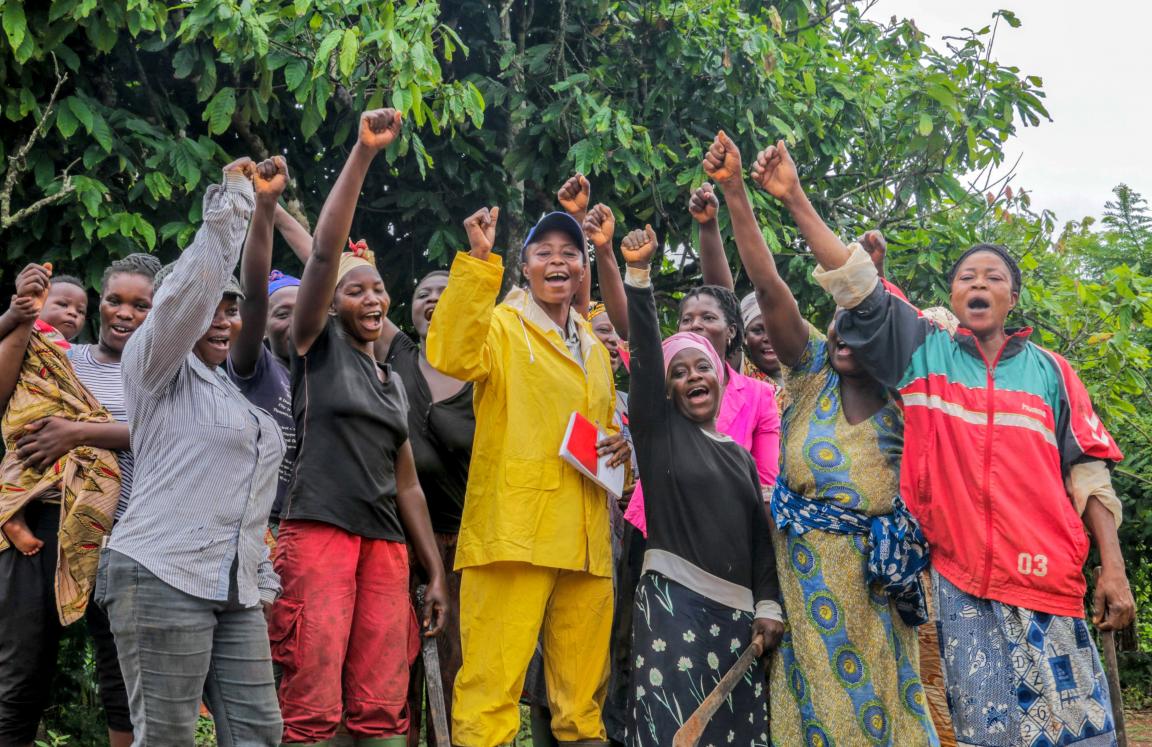 ActionAid in Ghana
Home to over 28 million people (2018 estimates), Ghana was the first African nation to gain independence – in 1957.
With seventy per cent of the country depending on subsistence farming to survive, unpredictable weather patterns commonly result in droughts and floods, with many families regularly experiencing severe food shortages, especially in the northern sector.
ActionAid began operating in Ghana in 1990 and in 2005, became the first country programme to become an Associate of ActionAid International with a local Board membership of 13.
Currently, ActionAid Ghana (AAG) works with more than two million people living in poverty in 57 districts in eleven regions: Upper East, Upper West, Northern, Savannah, North East, Brong Ahafo, Bono East, Ahafo, Oti, Volta and Greater Accra.
ActionAid Ghana (AAG) supports the basic needs and rights of people living in poverty. We do not impose solutions but work with communities to strengthen their own efforts, making the most of their knowledge and experience, to improve their access to services. We also work with government, community groups, partners and others to make policies that enhance the quality of life or change policies and practices that affect their lives negatively.
ActionAid Ghana uses a rights-based approach (that is working within the human rights framework) to help build people's power to hold duty bearers to account, protect the rights of the poor and vulnerable with the hope of eradicating poverty.
Our work on women's rights issues focuses on women in leadership, violence against girls and women, and women empowerment.
AAG invests heavily in education. Our emphasis is on securing girls' and women's right to education, access for excluded groups, adequate resources for education, and works to ensure participation, transparency and accountability in the education sector. We support basic education and have succeeded in increasing access to formal education.
In the food rights and climate change theme, we support women groups and communities to increase their yields, increase household food security by training farmers in modern agronomic practices. We also ensure that our communities have access to safe drinking water by constructing wells and mini dams to lengthen the period of cultivation throughout the dry season. We also support communities with grain banks to store excess harvest for use during the hunger period.
Vision
A just, equitable and sustainable world in which every person enjoys the right to a life of dignity, freedom from poverty and all forms of oppression.
Mission
To achieve social justice, gender equality, and poverty eradication by working with people living in poverty and exclusion, their communities, people's organisations, activists, social movements and supporters.
Values
Mutual Respect, requiring us to recognise the innate worth of all people and the value of diversity.
Equity and Justice, requiring us to ensure the realisation of our vision for everyone, irrespective of gender, sexual orientation and gender identity, race, ethnicity, caste, class, age, HIV status, disability, location and religion.
Integrity, requiring us to be honest, transparent and accountable at all levels for the effectiveness of our actions and our use of resources and open in our judgements and communications with others.
Solidarity with People Living in Poverty and Exclusion will be the only bias in our commitment to the fight against poverty, injustice, and gender inequality.
Courage of Conviction, requiring us to be creative and radical, bold and innovative – without fear of failure - in pursuit of making the greatest possible impact on the causes of poverty, injustice, and gender inequality
Independence from any religious or party-political affiliation
Humility, recognising that we are part of a wider alliance against poverty and injustice
Under the current Country Strategy Paper VI: People's Power for Social Justice, 2018 - 2022, ActionAid Ghana is prioritising four mission objectives:
Strengthen resilient livelihoods and contribute to secure climate justice.
Address the root causes of violence against women and girls, reduce Unpaid Care Work and promote decent work.
Promote the rights of all citizens to equitable access to good-quality, child-friendly public education that builds their confidence and self-esteem to demand transparency and accountability from duty bearers.
Improve citizen's participation, public accountability, effective mobilisation and fair redistribution of public re-sources towards gender-responsive public service.