ActionAid hands over toolkit to beneficiaries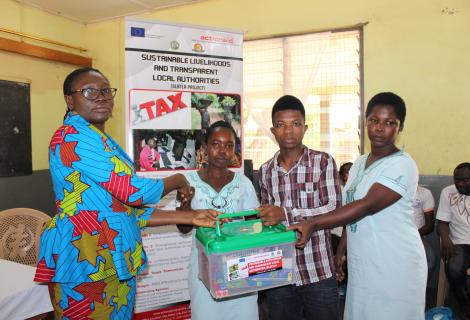 ActionAid, as part of the European Union-funded Sustainable Livelihoods and Transparent Local Authorities (SLATLA) project, has handed over starter packs and toolkits to over 140 beneficiaries of artisan training in a ceremony held on Thursday, July 19, 2018 at the La Nkwantanang-Madina Municipal Assembly (LaNMMA).
Beneficiaries comprised of recent graduates of a three-month intensive training carried out by the National Vocational and Training Institute (NVTI) in the areas of plumbing, embroidery and tiling under the SLATLA project.
At the handing-over ceremony, ActionAid provided machines, equipment and starter packs to beneficiaries to help them kick-start their businesses and sustain themselves and their families.
She-Vera Anzagira, ActionAid's Greater Accra Regional Programme Manager, advised beneficiaries to make use of the opportunity given to them by putting their lessons into practice. She also encouraged beneficiaries, who had been divided into groups, to form cooperatives that would be recognised and supported by government,
"The reason why we are providing these items to you in groups, instead of individually, is so that you will form cooperatives and register it. Once you do this, you can receive support from government. Government has several opportunities available for registered businesses and so when you register your group, you can take advantage of these opportunities"
Frederick Asiamah, Planning Officer at LaNMMA, thanked partners for contributing to the trainings, adding that the success of the project will have a ripple effect across the country,
"SLATLA is a pilot by the European Union and ActionAid and I entreat everyone here today to make use of the tools given and skills that they have been provided with because the success of this project will mean its duplication in other assemblies and communities in the Greater Accra region and across the country"
The three-and-a-half-year project is being implemented by ActionAid Ghana in partnership with two local assemblies, La Nkwantanang-Madina Municipal Assembly (LaNMMA) in the Greater Accra Region and the Sunyani West District Assembly (SWDA) in the Brong Ahafo Region.
So far, 1,825 beneficiaries in both Assemblies (1,086 in SWDA and 739 in LaNMMA) have been taken through mushroom farming, grass cutter rearing, embroidering, plumbing and tiling training.
Co-financed by ActionAid, the European Union, and the two Local Assemblies, SLATLA has an overall objective of promoting growth of the informal economy by providing skills training and opportunities to women, men and people living with disabilities between the ages of 18 – 40 years.
By: Faiza Awudu Ibrahim, Intern, Communication and Public Relations Department
Editors' notes
ActionAid Ghana (AAG) is an Affiliate of ActionAid, a global justice Federation working to achieve social justice, gender equality and poverty eradication. Throughout the world, ActionAid works to strengthen the capacity and active agency of people living in poverty and exclusion, especially women, to assert their rights.
We work with people living in poverty in six region: Upper East, Upper West, Northern, Brong Ahafo, Greater Accra and the Volta region. Our main areas of focus are education, women empowerment and food security.
For more information and interviews, contact:
Deborah Lomotey, Communications Officer, Deborah.Lomotey@actionaid.org