ActionAid supports beneficiaries with starter packs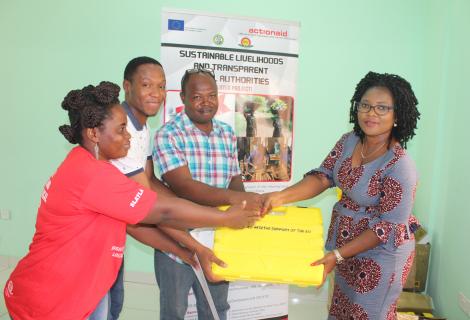 ActionAid Ghana (AAG) has provided 40 ICT start-up toolkit to beneficiaries of the European Union-funded, Sustainable Livelihoods and Transparent Local Authorities (SLATLA) project in the La Nkwantanang-Madina Municipal Assembly (LaNMMA) of the Greater Accra region of Ghana
The 60 beneficiaries of the SLATLA project training, who had undergone three-months Personal Computer (PC) Support and Maintenance Training under the project, were also rewarded their certificates.
She-Vera Anzagira, Greater Accra and Volta Regional Programme Manager at ActionAid Ghana talked about how the project was contributing to the growth of the local economy.
Under this project, we have been working with local artisans, agro-business entrepreneurs, ICT professionals and many others to promote sustainable livelihoods, decent work and positive employable options for women and youth groups. Since its launch, the project has benefitted over 1,000 young people, women, and People Living With Disabilities (PLWDs) in the two regions it is being implemented in. Beneficiaries have been trained in mushroom farming, vegetable farming, poultry feed processing, poultry, and grasscutter rearing with many more presently undergoing artisanal trainings in tiling, plumbing, and embroidery

Speaking at the event held on Friday, 22nd June 2018 at the LaNMMA office, the Municipal Chief Executive (MCE) of the Assembly, Jennifer Dede Afagbedzi, thanked ActionAid for its support and encouraged beneficiaries of the project to make use of the toolkit
I urge you all to use the training tools you have been given to create jobs for yourselves. When community members build businesses that thrive, the Assemblies can also generate revenue through tax, which can be used to develop the Assembly and provide facilities to community members
The SLATLA project has an overall impact of contributing to the promotion and growth of the informal local economy in 40 communities in the Greater Accra and Brong Ahafo regions.
ActionAid is co-implementing the project with two district assemblies; the Sunyani West District Assembly (SWDA) and the La Nkwantanang-Madina Municipal Assembly (LaNMMA).
Aside giving beneficiaries in the two local authorities skills training and employable skills, ActionAid Ghana is working with the two assemblies to improve accountability, transparency and revenue mobilisation in their local authorities.
Editors' notes
ActionAid Ghana (AAG) is an Affiliate of ActionAid, a global justice Federation working to achieve social justice, gender equality and poverty eradication. Throughout the world, ActionAid works to strengthen the capacity and active agency of people living in poverty and exclusion, especially women, to assert their rights.
We work with people living in poverty in six region: Upper East, Upper West, Northern, Brong Ahafo, Greater Accra and the Volta region. Our main areas of focus are education, women empowerment and food security.
For more information and interviews, contact:
 1.    Deborah Lomotey, Communications