Communiqué: Young Urban Women's Movement on relevance of water as a gender-responsive public service during the 2018 celebration of World Water Day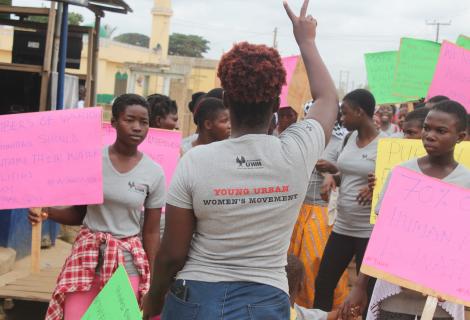 YOUNG URBAN WOMEN'S MOVEMENT'S COMMUNIQUÉ TO THE MUNICIPAL CHIEF EXECUTIVE, GA WEST MUNICIPAL ASSEMBLY, AMASAMAN, ON THE RELEVANCE OF WATER AS A GENDER-RESPONSIVE PUBLIC SERVICE DURING THE 2018 CELEBRATION OF WORLD WATER DAY
Preamble: The Young Urban Women's Movement (YUWM) is an organized body of young women aged between 15 to 35 years interested in the welfare of young women within the Ga West Municipality of the Greater Accra Region as well as its other wings within the Northern and Upper East Regions.
Our ultimate goal as a movement is to ensure that the government, at both the national and local level, implements policy actions that respond to the demands of young urban women regarding their economic security and bodily integrity.
We hope to achieve this by:
Advocating around issues of economic justice and bodily integrity.
Advocating and promoting increased gender-responsive public services in our communities
Issues Identified
According to Ghana's 2010 Population and Housing Census, water for domestic use in the Ga West Municipality consist mainly of borehole/pump/tube well (25.8%), pipe-borne outside dwelling unit (21.1%), and pipe-borne inside dwelling unit (16.2%).
Per data collected using time diaries within 500 households in the ten (10) communities within the Ga West municipality; Kpobiman, Medie, Kutunse, Sarpeiman, Opah, Kpobikorpe, Akotoshie, Amasaman, Treba and Nyarbeman, women and girls in 91% of the households have to fetch water for their chores. Of this same sample size, it takes these women and girls, on average, ten (10) hours and 30 minutes to provide water for weekly use.
Having been raised and now living in these communities over the years, we have come to realise that per our gender socialization, women do and are expected to engage in virtually all household chores and activities, including childcare, cooking, laundry, cleaning of the home, washing dishes, etc. A critical look at these chores reveal the high demand of water in executing them.
Unfortunately, water is quite scarce within our communities, and as a result, women and girls devote their time and energy into the provision of water for households. Women have to walk long distances to access water and, in some cases, cross highways, resulting in accidents and other risks to their physical security.
Although some communities in the municipality have access to water, like Opah and Medie (Ayigbe Town), their complicated operations make it difficult and are also subject to high costs and exploitation from the men who mostly run these facilities.
Recommendations
In tackling the issue of lack of access to water for women and girls in the ten identified communities and promoting gender-responsive public service delivery, the Young Urban Women's Movement has identified the following recommendations:
1. The local government should invest in the provision of more water sources within the ten Ga West communities. Although donor agencies have provided some support, this has proved to not be enough and sustainable and hence we request water resources from the Ga West Municipal Assembly, especially in these water-deprived communities:
Treba
Kutunse
Opah
Kpobikorpe
Kpobiman (Hearts Park)
2. Water fetching mechanisms should be gender-responsive, that is friendly to all, including women and easy for women to operate.
We conclude by counting on your support.
Presented by:
Young Urban Women's Movement
Kpobiman, Ga West
Accra – Ghana
Signed:
Helen Quansah
Chairperson, Young Urban Women's Movement