Africa Climate Week: We're running out of time to protect farmers and food supplies from global warming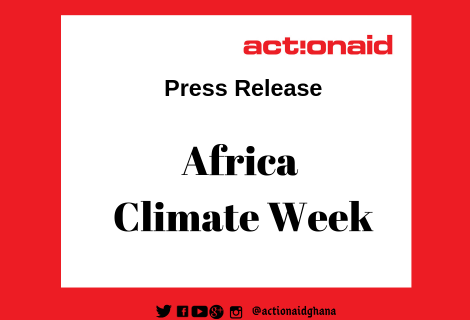 With rising global temperatures causing food insecurity and water scarcity across the continent, our leaders are running out of time to protect citizens from catastrophic climate change.         
Ahead of Africa Climate Week in Accra, Ghana, ActionAid is calling on African leaders to recognise the value of climate-resilient 'agroecology' and to start promoting this approach to future-proof our food systems against global warming.   
We have all noticed that the climate is changing, and that the seasons have been disrupted as a result of global warming. In recent years in Ghana, we have experienced more frequent weather extremes, sometimes seeing droughts one year and floods the next. Rainy seasons arrive early, or late, or are far shorter than usual.
Rural communities who depend on farming for food and income are especially vulnerable to climate change. Farmers who depend on predictable rainfall patterns are harvesting lower yields or even struggling to grow food. Soils are drying up quickly due to higher temperatures. New invasions of pests are marching through fields. Fodder and pasture for livestock is becoming harder to find. With hot seasons lasting longer, many communities now find that their sources of water are drying up.
In many cases, these trends hit women and girls the hardest. Women farmers face discrimination when they try to access credit to make the investments needed to cope with the impacts of climate change. Women who lack fixed properties to use as collateral are often turned away from accessing bank loans for any meaningful investment in commercial agriculture. Services providing farming advice tend to target male farmers. During droughts, women and girls are forced to spend hours walking long distances to find water and fodder. And when crop failure reduces family incomes, girls will often be pulled out of school before their brothers.
The bad news is that science tells us that climate change is likely to get worse. A major scientific report released last year by the Intergovernmental Panel on Climate Change (IPCC) shows that there is very little doubt that the whole planet is steadily warming, and that Africa is on the front line of climate change.
Climate change has mostly been caused by rich polluting countries, who, through industrialisation, have released huge amounts of warming gases into the planet's atmosphere. We urgently need those countries to transform their economies to keep the planet safe, and we need our own leaders to remind wealthy countries of that obligation.
Amidst this new terrifying reality, there is also some good news. There are things we can do to adapt and make ourselves safer from climate change. For example, ActionAid works with farming communities to support them to become more resilient to the impacts of climate change. We know that there are clever strategies available that can help to lessen the harm that extreme weather can wreak on food production and communities.
Innovative strategies include training farmers, particularly women, who grow some 80% of Ghana's food and 70% of Africa's food, and encouraging them to use climate-friendly agroecological farming techniques. Agroecology means replacing expensive agrochemicals with natural materials that improve fertility, increase water retention in soils, and counter pests and disease. This approach encourages the planting of many different kinds of crops, including traditional varieties that are suited to different weather conditions.
These techniques are often dismissed by the agribusiness industry as less productive or less modern than the industrial agrochemicals and hybrid seeds that the industry wants to sell to farmers. But an increasing body of evidence demonstrates that agroecology makes farming systems more resilient to climate change. It also helps farmers on low incomes, particularly women farmers, to increase their profit margins because they don't need to spend money on expensive chemicals and seeds.
As African leaders meet this week for the high-profile United Nations summit as part of Africa Climate Week, we're calling on governments to recognise the value of agroecology and start promoting it as a real and future-oriented solution to help food systems cope with the impact of climate change.
We need a national-level mobilisation to ensure that our agriculture, our water, our infrastructure, our safety and all aspects of our lives are climate-proofed against the further disruptions that we know are coming. One of the most important actions our government should take now, would be to ensure the development of our National Adaptation Plan (NAP) puts agroecology at the centre for building climate resilience of our farming systems.
At UN climate talks, countries including Ghana have committed to protecting citizens and making sure that we can adapt to climate change by developing NAPs.
But the NAPs process – development and implementation in Ghana - has been slow to get moving. This is disappointing when time is of the essence, as farmers are already suffering from climate change impacts. We need the government to take swift action to bring together the right stakeholders and to develop an effective plan through the active participation of all stakeholders, particularly the smallholder and women farmers. This will result in a NAP that is fit for purpose in protecting our country, our citizens and our food systems from climate change.
When African presidents line up to speak and make announcements at the high-level summit in Accra this week, what will the President of the Republic of Ghana, Nana Addo Dankwa Akufo-Addo, announce for our country? Africa Climate Week is the perfect moment to announce that Ghana will be promoting agroecology as a farming adaptation strategy for farming, and that the government will urgently take forward the NAPs process and its implementation.
We will be listening. This opportunity to protect citizens from the dangers of climate change is too important to miss.
Signed:
Sumaila Abdul-Rahman
Country Director, ActionAid Ghana
Editors' notes
ActionAid Ghana (AAG) is an affiliate of ActionAid, a global justice Federation working to achieve social justice, gender equality and poverty eradication. Throughout the world, ActionAid works to strengthen the capacity and active agency of people living in poverty and exclusion, especially women, to assert their rights.
We work with people living in poverty in six region: Upper East, Upper West, Northern, Brong Ahafo, Greater Accra and the Volta region. Our main areas of focus are education, women empowerment and food security.
For more information and interviews, contact:
 1.    Deborah Lomotey, Communications Officer: