COP25: Woman farmer from Malawi speaks out against use of chemical fertilisers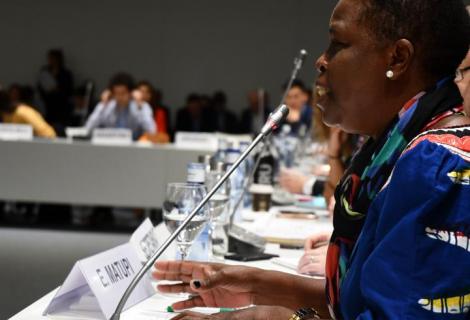 Ellen Matupi, a smallholder farmer from Malawi, has seen firsthand the impact climate change is having on the livelihoods of women farmers and rural communities.
As president of the Coalition of Women Farmers (COWFA) in Malawi, a partner of ActionAid Malawi, Ellen is promoting more sustainable and resilient agricultural systems.
This week, Ellen has been at the UN climate change conference in Madrid, known as COP25. She gave an important presentation during UNFCCC negotiations on agriculture, speaking out against government subsidies for chemical fertilisers and calling for investment in climate-resilient agroecology.
She explained how life as a smallholder in Malawi is being blighted by climate change. A severe drought ravaged the region in 2016, while earlier this year, Cyclone Idai devastated large areas of agricultural land, leaving farmers like Ellen increasingly food insecure.
Women farmers face specific challenges in Malawi, often they do not own their land and are poorly represented in decision making processes.
Ellen has had training in adaptation techniques, including climate-resilient agroecology. She now trains other women farmers in these methods and advocates for their rights.
By collectivising, COWFA has helped spread more sustainable and resilient agricultural practices such as seed banking and manure production as opposed to using pesticides and fertilisers that deplete soil of its nutrients and can lead to increased food insecurity.
"The common assumption that agroecological methods are less productive than conventional systems is incorrect," she says.
"I myself have experienced this. In 2008, I planted my maize. I had no money to buy fertiliser. So my crop failed. There were no natural nutrients in the soil. When my friend came to visit, she said 'Ellen why are you wasting time looking for fertilisers when you are keeping pigs, cows and chickens?' She told me how to make this manure. I did it and used it and harvested. Today, I am still using that!"
Ellen is promoting sustainable and resilient agroecological practices at COP25 and advocating for women farmers to be more involved with decision-making processes.