Press release: ActionAid joins global climate strike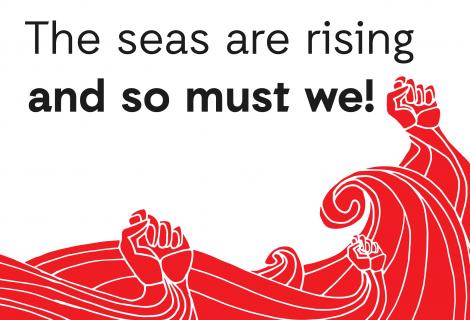 Accra, Ghana – 19th September 2019 – From Nairobi to Copenhagen, Dhaka to Sydney, thousands of ActionAid staff, supporters, partners and young people's networks are joining the Global Climate Strike.
As world leaders head to New York for the 74th United Nations General Assembly (UNGA) and Climate Action Summit, the worldwide marches and actions will send a clear message that people of all ages and background, across the Global North and South are demanding climate justice.
ActionAid Ghana's youth training hub, Global Platform Ghana, in partnership with the Young Reporters for the Environment and the Accra Metropolitan Assembly, will be mobilising youth from across the 16 regions of the country to engage in a mass strike and demonstration in the heart of the capital at the Accra Metropolitan Assembly
Sumaila Abdul-Rahman, country director of ActionAid Ghana says:
"The youth in Africa and across the globe are demanding a radical transformation of the current socio-economic systems. They are calling for a shift away from fossil fuels towards sustainable solutions to our economy and society. I encourage governments to listen to their demands, to respect the climate agreements, and protect citizens from the effects of climate change."
Anne Jellema, secretary general of ActionAid International, says:
"The wealthiest few may be able to insulate themselves from the impacts of climate disasters. But billions of people in the Global South, who are the least to blame for this crisis, are already losing their lives and livelihoods.
"Millions are taking to the streets for the biggest ever mass mobilisation against climate chaos. This is a historic moment to demand the ambition needed from world leaders to avert climate catastrophe and support those on the frontline of the emergency." 
ActionAid will be at the make-or-break UN Climate Action Summit in New York calling for three ways to breathe life into the Paris Agreement, which aims to limit global temperature rise to no more than 1.5C of warming.
Harjeet Singh, ActionAid's global lead on climate change, says:
"Governments are approaching this emergency at snail's pace, while every scientist in the world is warning that we are on track to a 3C warmer world that will be catastrophic for people and the planet."
"We need a fundamental system change if we are to detox from fossil fuels and meet meaningful emissions targets."
ActionAid's three demands for the UN Climate Action Summit:
1. Fair and urgent emission reduction targets
Keeping global temperature rises below 1.5°C can only be achieved through countries delivering their fair share of reductions in national emissions. This requires fundamental system change with rich countries kicking their addiction to fossil fuels and industrial agriculture, and urgently transitioning to green economies.
2. Ensure that climate actions protect human rights and the natural world 
As countries put in place new climate policies to shape industries, food systems and forests, these must work with nature and not against it. At the same time the rights of rural communities, particularly women farmers and indigenous peoples must be protected.
3. Rich countries meeting and exceeding the promised $100bn per year
Rich countries must make good and exceed their commitment to provide $100bn per year in finance to help developing countries cope with the impacts of climate change and reduce their carbon emissions.
Ends.
For more information contact Akosua Kwafo Ogyiri on +233 26 819 6573 or Deborah Lomotey on +233 24 262 8418 and visit https://actionaid.org/ClimateJusticeNow
ActionAid
ActionAid is a global movement of people fighting for women's rights, social justice and an end to poverty. An international federation of 45 countries, we work with climate-affected communities around the world and have over a decade of experience in monitoring global climate negotiations.