Over 50 youth participate in National Stakeholder forum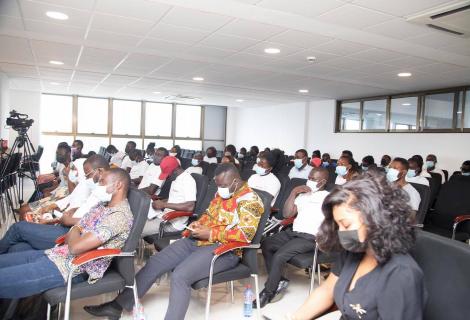 ActionAid Ghana has collaborated with public and private sector institutions such as the National Youth Authority, Ghana Enterprise Agency, Youth Employment Agency, National Development and Planning Commission and Kosmos Innovations to hold a national youth forum on providing employment opportunities for young people in Ghana.
The forum which was themed "Accelerating Employment Opportunities in the Era of COVid-19", forms part of planned activities for the Providing Employment Opportunities for Young People in Ghana project which is being implement by ActionAid with funding from Medicor Foundation.
Speaking at the event, the Head of Programmes, Campaigns and Innovations, John Nkaw, noted that a report released in 2020 by the International Labour Organisation indicates that global youth employment fell by 8.7 per cent in 2020 compared with 3.7 per cent for adults, contributing to employment losses among young people.
Citing a report by the World Bank titled "Youth Employment Programs in Ghana: Options for Effective Policy Making and Implementation.", he said that Ghana is faced with 12 per cent youth unemployment and over 50 per cent underemployment, a figure which is higher than overall unemployment rates of 7 per cent in Sub-Saharan African countries.
"The World Bank has projected that, given Ghana's growing youth population, 300,000 new jobs would need to be created each year to absorb the increasing numbers of unemployed young people" he added.
Mr. Nkaw revealed that ActionAid has been empowering young people with relevant skills and knowledge in livelihood activities and encouraging their participation in decision making that affects their lives.
He reiterated that since ActionAid began its operations in Ghana, it has involved young people in community programmes, and equip them with the capacities to initiate campaigns about their development.  
Mr. Nelson Owusu Ansah, Acting Chief Executive Officer, National Youth Authority, said the issues of unemployment is becoming rhetoric, therefore, stakeholders need to collaborate to drive sustainable solutions.
He noted that the different definitions ascribed to a youth is having a negative impact on policies and programme implementation, adding that a campaign will be initiated at the international and regional level for review of these multi-definitions.
Mr. Owusu-Ansah called on the youth to rediscover themselves and focus on skills development to improve their economic activities.
The Project Manager, Terence Tienaah explained that the Providing Employment Opportunities for Young People in Ghana project is being implemented in pursuit of ActionAid's Mission Priority which is to address the root causes of violence against women and girls, reduce unpaid care work and promote decent work.
This project is funded the Medicor Foundation in the Liechtenstein to provide young people in the Northern, Upper East, and Brong Ahafo regions of Ghana are equipped with the skills to generate increased income and engage with government to influence decisions that will affect their futures.
The project has so far resulted in livelihood training for over 500 youth across the implementing regions.