ActionAid Ghana awarded Best NGO in the fight against gender-based violence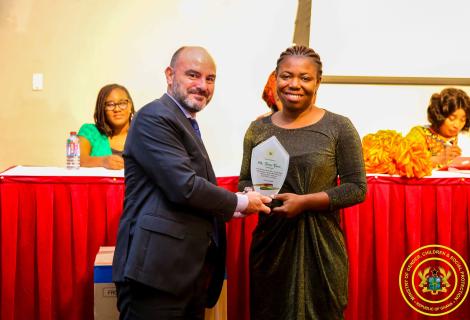 Since 1990, ActionAid has been working with women, children and young people to achieve social justice, gender equality, and poverty eradication. With a vision of a just, equitable and sustainable world in which every person enjoys the right to a life of dignity, freedom from poverty and all forms of oppression, ActionAid Ghana continues to work to help vulnerable people achieve a life of dignity. 
Reducing violence against women and girls has been a key thematic area in ActionAid's programme and campaign work. In this thematic area, ActionAid mobilises, organises and supports women and girls to actively participate in decision-making processes and empower them to challenge and reject all forms of gender-based violence, while advocating for gender-responsive policies. As a result of ActionAid's work in Ghana over the last 30 years, we have come to the very disturbing realisation that violence against women is deeply rooted in patriarchy and an imbalance of power which often puts women at a disadvantage making them vulnerable to all forms of violence and abuse. The violence and discrimination suffered by women is a key barrier to them realising their rights and to the achievement of social justice.
Of all the abuses of rights around the world, violence against women is one of the most widespread. Violence can take many forms, such as domestic abuse, trafficking, rape, or harmful practices such as early marriage and Female Genital Mutilation, witchcraft accusation and many others. Although anyone can be a victim of sexual and gender-based violence, women and girls are the worst victims of sexual and gender-based violence. The effects of violence against women and girls are far-reaching. It is, therefore, necessary for women and girls to receive the maximum protection and safety assurance that a nation can offer.
Key Interventions
Formation of the alleged witches' Reintegration Committee. The focus of the reintegration campaign and work of the committee is to sensitise communities and address the perceptions and practices that put the women in the camps in order to ensure that once accused women come back to live in the community, they are safe and accepted.
Successfully closed the Nabuli alleged witches' camp and provision of basic services such as food, water, shelter and education. In recent years the focus is also on enabling women to organise themselves, learn about their rights and fight for improved services and access to social benefits.
The campaign to protect and secure the dignity of alleged witches led to the construction of a six-seater bio-digester sanitary facility provided for dwellers of the Gnani alleged witch's camp with support from the Australian High Commission in Ghana.
Successfully collaborated with relevant stakeholders to embark on a massive advocacy campaign and engage the government to urgently establish the fund. The fund is to provide adequate financial support for DOVVSU's work.
The establishment of a survivor centre in Wa in the Upper West region for the Protection and Promotion of Women and Girls' Rights: the centre which was constructed with funding from People's Postcode Lottery, UK, serves as a counselling and empowerment facility.
Launch of Community-Based Anti-Violence Teams (COMBAT) in all operational areas. COMBAT refers to a group of rights-minded and development-oriented men and women who have undergone extensive training and sensitisation by the Domestic Violence and Victim Support Unit (DoVVSU) of the Ghana Police Service. These advocates campaign against child marriage, domestic violence, Female Genital Mutilation, and other rights abuses. They are the eyes and ears of DoVVSU and the Ghana Police Service in their communities, providing crucial information and evidence on human rights abuses.
To ensure the protection of the rights of domestic workers, ActionAid played an integral role in campaigning for the passage of the Labour (Domestic Workers') Regulations, 2020 (LI 2408) to define the employment relationship between a domestic worker and his/her employer.
Facilitated the formation and operation of Girls' Clubs in our community schools, to empower the girls to identify and fight for their rights in and outside the school environment, including resisting child and forced marriage.
Campaign with stakeholders for the ratification of ILO C190 which seeks to eliminate violence and harassment at work.
On December 6, the Ministry of Gender, Children and Social Protection organised an award ceremony as part of activities to mark the 16 Days of Activism Against Gender-based violence global campaign. At the ceremony, ActionAid was awarded alongside the Upper West Regional Manager, Terence Tienaah as the Best Non-Governmental Organisation Best Personality in the fight against gender-based violence respectively. 
In response to the recognition, John Nkaw, Country Director of ActionAid Ghana said, "this award is a true reflection of ActionAid's commitment to the protection of women and girls' rights. The COVID-19 pandemic clearly accelerated the cases of gender-based violence, especially intimate partner abuse. I am of the full conviction that this will motivate the team to work harder to achieve social justice for all." 
Two awards were also presented to Agnes Obour, Coordinator, Network of Community Development and Lamnatu Adam, Executive Director, Sogntaba who are partners of ActionAid Ghana in the Oti and Northern regions.