Asutifi South and Tain DCEs engage ActionAid leaders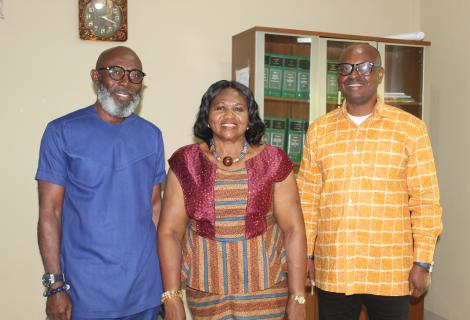 A delegation led by the Nana Yaw Okyere-Aduachie, Board Chair, ActionAid Ghana paid a visit to the Asutifi South District Chief Executive (DCE), Hon. Dwumor Mensah and the Tain District Chief Executive, Dr. Lucy Acheampong.

Touching on the impact of ActionAid's interventions in the district, Hon. Mensah noted that as a result of ActionAid's capacity-building sessions on Unpaid Care Work, the district currently has male staff who support their wives by reporting to work with their children.

He said the practice has offered wives of these staff members the opportunity to engage in productive activities that support the family's economic status.
 
Touching on some developmental concerns in the district, the DCE mentioned that Teenage Pregnancy is one of the key areas that need immediate attention to avert its dire impact on the ambitions of young girls.

He said the increase in Teenage Pregnancy cases is a result of idleness among the youth, adding that livelihood skills training and start-up will get the youth engaged in productive activities and serve as a response mechanism towards the reduction of teenage pregnancy. 

Dr. Acheampong, District Chief Executive for Tain, also revealed that an early childhood development school facility provided by ActionAid in the Badu Drobo community has resulted in an increase in enrollment among children in the community and its environs. 

She noted, "the increase from 70 children to 100 is due to the special needs the facility provides to these children".

The facility is in response to ActionAid's commitment towards improving access to quality basic education through the provision of safe teaching and learning environment for children.