Community members recount impact of ActionAid interventions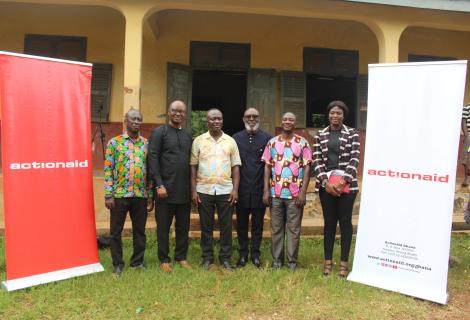 During a visit to Amanfrom, Hyiamankyene and Badu Drobo communities, members were engaged on the various interventions rolled out by ActionAid. 

The team led by the Board Chair, Nana Yaw Okyere-Aduachie, made their first stop at Hwediem Amanfrom where discussions with traditional authorities and members of the community centred on the construction of a two-unit early childhood school facility being provided to improve access to education for children in the community. 
At Hyiamankyene, the engagement centred on ActionAid's support to communities towards the development and roll-out of community Climate Adaptation Plans. The farmers revealed that ActionAid training on agroecological practices are guiding them to produce organic farm yields. 

To mitigate the impact of climate change, members of the Hyiamankyeni community have placed a ban on bush burning and also intensified awareness of the practice. 

At Badu Drobo, members of the community were full of gratitude to Actionaid Ghana for the provision of an early childhood school facility, the first of its kind in the community. They explained that the facility had saved their children from the stress of walking for many kilometres to attend school in neighbouring communities.