Members of parliament pledge support to ActionAid's fight against poverty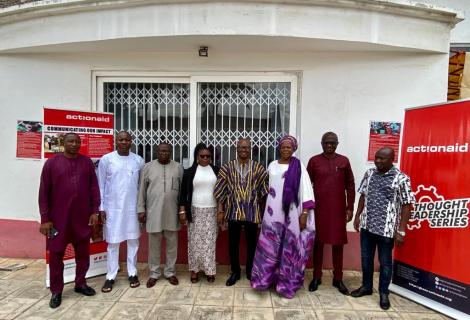 A six-member delegation of parliamentarians from the Upper East region have pledged their support to ActionAid Ghana's fight against poverty and injustice.  
The pledge was made during a visit to the newly appointed Country Director, John Nkaw at the Head Office in Accra on Friday, June 3, 2022.
The parliamentarians are: Hon, Mahama Ayariga, MP for Bawku, Hon. Cletus Avoka, MP for Zebilla East, Hon. Albert Akuka Alazuuga, MP for Garu, Hon. Hajia Yamba Lardi, MP for Pusiga, Hon. Lydia Lamisi, Akanvariba, MP for Tempani and Hon. Abdulai Abanga, MP for Binduri constituency.
Hon. Albert Alazuuga, MP for Garu constituency commended ActionAid for their long-standing commitment towards the fight against poverty, especially in the northern regions. 
He noted that despite the strides made, residents in the five northern regions continue to face challenges relating to access to basic social amenities and believes a collaboration between the two parties will go a long way to minimise the daily hurdles faced by the people.
Hon. Hajia Yamba Lardi, MP for Pusiga constituency opined that ActionAid's focus on women centered interventions is rightly placed due to the prevalence of violence and injustice perpetuated against women in the northern regions, adding that most women, in the Upper East region especially, do engage in any form of economic activity to make them independent.
According to her, although government has been providing financial support to these deprived women through loans, the support has not yielded the needed results due to the lack of skills to enable them to engage in viable economic activities. 
Hon. Lardi further called on the leadership of AAG to expand the ongoing livelihood skills training programmes implemented under the Providing Employment Opportunities for Young People in Ghana project - to provide economic opportunities for women across the regions.
Hon. Abdulai Abanga, Deputy Minister for Works and Housing and MP for Binduri constituency also noted that his constituents have benefited immensely from ActionAid's interventions through the provision of a child-friendly education facility and livelihood skills training for the youth. 
He appealed for an expansion in the skills training to help curb the increasing social vices recorded in the communities.
Mr. John Nkaw, Country Director for ActionAid Ghana, in his response, expressed profound gratitude to the Members of Parliament for the visit and commitment to support his leadership agenda.
He reiterated that ActionAid is committed to the fight against poverty through its four Mission Priorities to strengthen resilient livelihoods and contribute to secure climate justice, address the root causes of violence against women and girls and reduce unpaid care work and promote descent work. 
Mr. Nkaw mentioned that the rights of all citizens to equitable access to good quality child friendly education and improve citizen's participation, public accountability, effective mobilization and fair redistribution of public resources towards gender responsive public services, as some of ActionAid Ghana's mission priorities.
The Country Director said climate justice and advocacy for economic policies that serves the interest of women are key strategic focus for the ActionAid Federation, stressing on the need for the legislators to work with likeminded non-governmental organisations to resist policies and programmes that affect delivery of gender responsive public services.
He said the International Monetary Fund programmes for instance are retrogressive and lead to a cut in the provision of government expenditure on critical services in the health, education and water and sanitation sectors.
Mr. Nkaw further called on government to stay discipline and resist any attempts by the Britton Woods institutions to enroll Ghana back onto their programmes.