ActionAid Ghana Commemorates the Day of the African Child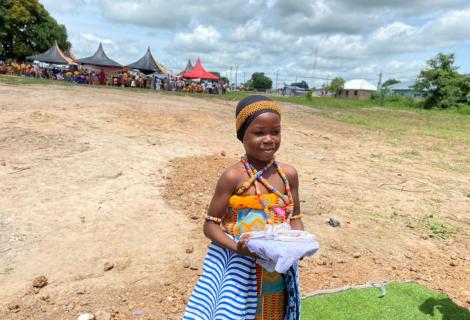 ActionAid Ghana proudly joins the world to commemorate the Day of the African Child. This significant day serves as a powerful reminder of the urgent need to protect, empower and promote children's rights and welfare across the African continent.
The Day of the African Child, initiated by the Organisation of African Unity (now the African Union) in 1991, aims to raise awareness about the challenges faced by children in Africa and advocate for their rights, education, and overall well-being.
This year's theme, "The Rights of the Child in a Digital Environment," resonates deeply with ActionAid's commitment to ensuring every child has equal opportunities to thrive. In line with our mission, we have been working tirelessly to support children, families, and communities in Ghana through various initiatives focused on girl-friendly public basic education and child protection.
John Nkaw, Country Director, ActionAid Ghana, said: As we work tirelessly towards achieving our vision, ActionAid Ghana sets out to work collaboratively with key stakeholders to create a world where every child's rights are respected, protected, and fulfilled. The Day of the African Child provides a platform to amplify our efforts in empowering children across Ghana by implementing inclusive interventions that builds their self-esteem to demand accountability from duty bearers.
ActionAid's programs in partnership with local communities prioritise education as a fundamental right, aiming to increase access to quality child and girl-friendly public basic education for marginalised children. Through the construction and rehabilitation of schools, provision of educational resources, and training of teachers and school management committees, we are working to bridge the education gap and ensure that no child is left behind.
Moreover, ActionAid recognises the importance of protecting children from all forms of abuse, exploitation, and violence. Our comprehensive child protection initiatives seek to raise awareness, strengthen child protection systems, and provide safe spaces for children to learn, play, and cognitive development.
On the Day of the African Child, ActionAid Ghana calls upon governments, civil society organisations, and individuals to reaffirm their commitment to children's rights and take concrete actions towards building inclusive societies that nurture their potential.
ActionAid Ghana reiterates its call on the government to take concrete action towards financing public, equitable, inclusive and free education.  Government must take decisive, forward-looking and expedient actions to reconfigure budget allocations in favour of basic education and secure the future of the Ghanaian children.  
To mark this significant day, ActionAid will be organising various events, including educational workshops, community dialogues, and advocacy campaigns. Through these activities, we aim to empower children, amplify their voices, and engage stakeholders in a collective effort to create a brighter future for children in Ghana.
Join ActionAid in celebrating the Day of the African Child. Together, let us take decisive steps towards creating a world where every child's dreams and aspirations become a reality.