ActionAid marks International Women's Day across Ghana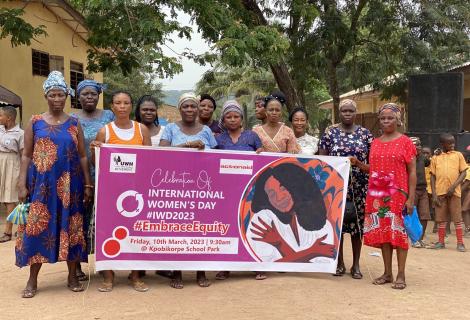 ActionAid Ghana on Wednesday joined the global community to mark the 2023 International Women's Day under the theme "Embrace Equity". International Women's Day has over the years been observed to encourage people and organisations to take action to stand with women as they demand their rights. These actions include accelerating women's full participation in leadership, strengthening protection for women against sexual exploitation, harassment, indecent work, violence and abuse and oppression in all forms.
Commenting on the day, John Nkaw, Country Director of ActionAid Ghana said women's contribution is vital to every nation's development.
"Nation-building cannot be achieved without the involvement of women. On this International Women's Day, we have another opportunity to take action towards gender equality and equity. Women deserve a just, dignified and violence free life."
Activities to mark the day include a digital campaign dubbed Community Voices. The campaign was aimed at celebrating women who are championing women's rights and amplifying the voices of women in various communities.
One such amazing woman is Patience Afidenyo, a Community Based-Anti Violence Team member at Horbor in the Ga South district. She supports women in her community to resist rights violations by asserting their rights.
"Women play a critical role in society and they need protection. Through the Transformative Action for Gender Equality project, I have learned to protect my fellow women against violence." she said. 
In the Upper East region, the Young Urban Women's Movement conducted a media sensitisation to educate the public on the challenges women face around decent work and women's participation in leadership, highlighting the role stakeholders should play to address these challenges. The celebration climaxed with a public procession on the streets of Bolga.
In the Bono region, ActionAid partnered with the Department of Gender and the Regional Coordinating Council to organise a cooking competition. The activity facilitated ActionAid's advocacy on unpaid care work.
On her part, the Bono Regional Minister, Justina Owusu Banahene, in appreciating the contribution of women to the socioeconomic development of the country, cherished single mothers and encouraged them to work hard and not give up on their children.
In the Greater Accra and Volta regions, the Young Urban Women Movement young women between the ages of 15-35 were sensitised and provided the opportunity to discuss how technology can build their skills for personal development and prepare them for economic opportunities.
Likewise, community members including chiefs, queen mothers, the media, CSO representatives, and school management committee members in Kpobikorpe and its environs in the Ga West district participated in a forum to discuss women's contribution to Ghana GDP through unpaid care work.