Coalition Against Witchcraft Accusation Celebrates Parliament's Historic Passage of the Criminal Offences Amendment Bill, 2022, Proscribing Witchcraft Accusation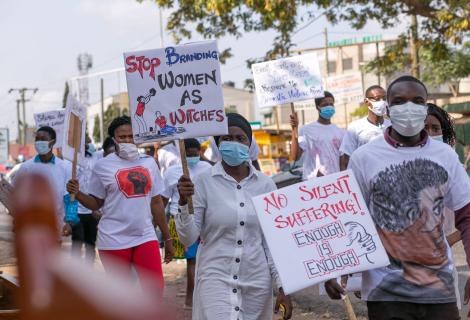 The Coalition Against Witchcraft Accusation is thrilled to announce our profound excitement and support for the passage of the Criminal Offences Amendment Bill, 2022, by the Parliament of Ghana. This landmark legislation aims to proscribe the heinous practice of witchcraft accusation in Ghana, marking a significant step forward in protecting the rights and dignity of individuals, particularly older women who face rights violations each day.
The passage of this vital bill demonstrates Ghana's commitment to addressing a deeply rooted societal menace that has caused immense suffering and injustice to countless innocent lives. For far too long, witchcraft accusations have perpetuated discrimination, violence, and violations of human rights in our country. We commend the Parliament of Ghana for taking this courageous and progressive step towards ending this harmful practice and creating a safer and more equitable society for all.
We particularly commend the sponsors of the Bill, Hon. Francis Xavier Sosu, Member of Parliament for Madina Constituency, Dr. Godfred Seidu Jassaw, Member of Parliament for Wa East and the many gallant Members of Parliament who led this historic fight.
As a Coalition dedicated to empowering marginalised communities, particularly women, we have witnessed the devastating impact of witchcraft accusations on individuals and families. The fear and stigma associated with such allegations have led to social ostracism, physical violence, and even loss of life. We firmly believe that no one should live in fear of being accused of witchcraft or face any form of persecution based on unfounded superstitions.
Through years of advocacy and community engagement, ActionAid Ghana and The Sanneh Institute have been actively campaigning for the eradication of witchcraft accusation in our society. We commend the collaboration and cooperation of various stakeholders, including civil society organisations, government bodies, and community leaders, who have contributed to the successful passage of this crucial bill.
As we celebrate this significant achievement, we appeal to the President, His Excellency Nana Addo Dankwa Akufo- Addo to take steps to assent the passed bill into law. We also call on the government to ensure effective implementation and enforcement of the Criminal Offences Amendment Bill, 2022.
As a Coalition, we believe that sensitisation campaigns, education, and awareness-raising programs are essential to challenge harmful cultural beliefs and practices that perpetuate witchcraft accusations. Moreover, it is imperative to strengthen social support systems and provide protection mechanisms for victims and survivors.
We remain committed to supporting the government's efforts in combating all forms of violence and discrimination and promoting a just and inclusive society for every Ghanaian. Together, we can build a future where the dignity and rights of all individuals are respected, and where no one lives in fear of being unjustly accused of witchcraft.
We extend our heartfelt gratitude to the public and all our partners, supporters, and advocates who have been instrumental in this journey towards justice and equality. Let us continue to stand together, united in the pursuit of a Ghana free from witchcraft accusation and any form of violence and discrimination.