Communities face risk of waterborne diseases, as overnight flooding wreaks havoc on north-west Syria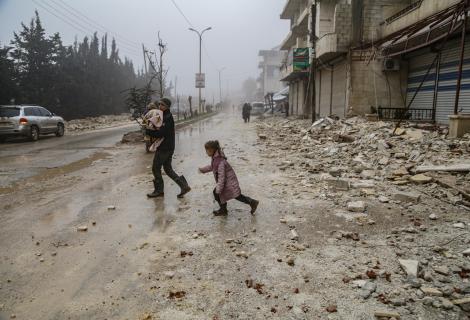 As communities continue to be affected by the fallout of last week's devastating earthquakes, ActionAid is concerned that reports of flooding from a burst dam in north-west Syria might increase the risk of fast-spreading waterborne diseases like cholera.  
Commenting on the situation Racha Nasreddine, Regional Director of ActionAid Arab Region said: 
"We are worried to see communities devastated by the earthquake facing fresh concerns of a cholera outbreak and other waterborne diseases. Without access to clean water and toilets, survivors will be left further vulnerable as floodwaters could overwhelm settlements in north-west Syria. 
"To make matters worse, the country has been facing a cholera outbreak since September with nearly half of all suspected cases of the disease reported last month coming from the north-west of Syria. It's likely that the flooding will increase the risk even further.  
"Half of Syria depends on unsafe water sources, and we know from speaking to our partner on the ground that the delivery of clean and safe water into areas affected by the earthquake is a particular challenge. And given that over 1.7 million people displaced by the conflict live in these areas, the risk of fast-spreading waterborne diseases is particularly high. 
"ActionAid is working with its partner in the region to urgently respond to the flooding, ensuring that affected communities can continue to access clean and safe water to help stave off the spread of waterborne diseases and cholera."