Earthquake survivors see huge spikes in food prices - urgent funding is needed in Syria to help to replenish food stocks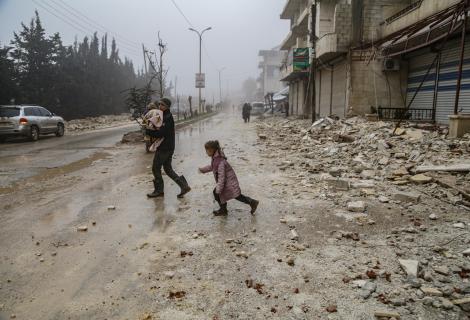 Spikes in food prices in north-west Syria are leaving earthquake survivors in further need of humanitarian assistance. There are reports of shortages of food items including wheat flour and significantly increased prices in Idleb and surrounding areas. 
Urgent funding is required to replenish food stocks, scale-up the humanitarian response and maintain regular food assistance support to individuals for the next three months.   
ActionAid partner Violet is working on the ground to distribute food kits and cash assistance to those in immediate need. ActionAid's partner has successfully reached thousands of households including those who are now hosting internally displaced people. But there are concerns around the increase in demand and prices and we know that mothers caring for young children will be hardest hit by these food shortages. There has also been an increase in prices of dignity items further impacting women and girls- prices for these were already significantly costly.   
Ahmad, Violet's area manager in Northwest Syria said: "Markets were temporarily disrupted as a result of the earthquakes, which has led to prices increasing."  
Alaa, Local Field Coordinator, Violet in north-west Syria, said:  "Prices of commodities like food have increased by 20 to 40%. Temporary shelter items have increased by 60% due to the high reliance on these items as a result of recent displacements. For this reason, it's a priority to focus on rebuilding livelihoods which will support recovery efforts of vulnerable people in north-west Syria."  
The death toll from the Turkey-Syria earthquakes is nearing 44,000 and the north-west of Syria is now home to 4.3 million internally displaced people who live in temporary shelters including tents and fragile structures. Many families who were already badly affected by the existing conflict have now found themselves displaced yet again.