Empowering Ghanaian Journalists to Promote Decent Work and Social Protection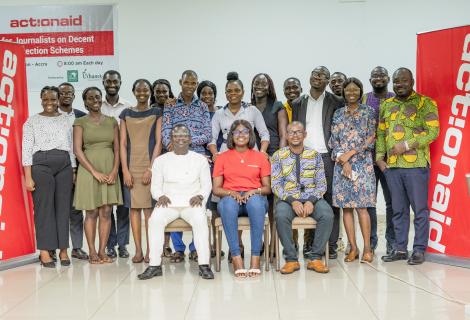 In recent years, Ghana has experienced significant economic growth and development, attracting global attention as a promising emerging market. However, as the nation strives to advance, it is crucial to ensure that the benefits of progress are equitably distributed among its citizens. Recognising the pivotal role of the media in shaping public opinion and promoting social change, ActionAid Ghana through the Northern Ghana Integrated Development Project with funding from the European Union organised series of media training on Decent Work and Social Protection for selected journalists in the Northern, Upper East, Upper West and Greater Accra regions.
The training sought to improve the knowledge of journalists on decent work principles, UN Guiding Principles on Business and Human Rights and existing social protection schemes in Ghana. It also focused on raising awareness and advocate for the expansion of social protection schemes to cover more deprived rural communities and to build the capacity of journalists to influence government policies on decent work at the local assembly and national level to develop a clear roadmap for the enforcement of decent work principles in the agricultural sector.
The training covered various aspects, including:
Understanding the concept of decent work: Participants gained insights into the fundamental principles of decent work, such as fair wages, safe working conditions, and job security.
Exploring social protection mechanisms: The training delved into different social protection programs and initiatives implemented in Ghana, their benefits, and the challenges they face.
Enhancing reporting skills: Participants learned how to research, interview, and present labor-related stories in an engaging and impactful manner, effectively reaching the public and stimulating discussions on decent work and social protection.
Promoting ethical journalism: The training emphasized the importance of responsible reporting, unbiased coverage, and the ethical considerations surrounding labor-related issues.
Understanding Decent Work:
Decent work encompasses various aspects of employment, including fair wages, safe working conditions, job security, and social protection. It emphasises the importance of treating workers with dignity and respect, ensuring their well-being, and providing opportunities for personal and professional growth. With an estimated 12 million people engaged in the labor force in Ghana, the concept of decent work becomes paramount for sustainable development and poverty reduction. The challenges of promoting decent work in Ghana is not limited to the lack of jobs, but also the absence of a living wage and the need to improve the productivity of the low-skilled informal sector workers. Self-employed people in farm and non-farm businesses earn wages that cannot support a decent life.
Quality employment and decent work conditions help reduce inequalities and poverty. It serves as source of personal dignity, family stability, peace in community and empower people, especially women, young people and the most vulnerable such as people with disabilities. The International Labour Organization (ILO) defines decent work as "productive work for women and men in conditions of freedom, equity, security and human dignity".
Decent work concerns in the Agric Sector:
In Ghana, agriculture is the mainstay of the Ghanaian rural economy, with the sector providing employment and income to the people in largely informal settings. While smallholder women farmers undeniably contribute significantly to the food security of households in Ghana, they are not often given the desired attention and focus on agricultural policy formulation and implementation.
The agriculture sector contributes to 54 % of Ghana's GDP, and accounts for over 40 % of export earnings, while at the same time providing over 90 % of the food needs of the country. Ghana's agriculture is predominantly smallholder, traditional and rain-fed. Despite their role to the country's food security, agricultural workers, particularly women and youth farmers often face decent work deficits, for example failure to honour the government minimum wage of GHC 14.88 pesewas. Employees mostly work under hazardous conditions, with no workplace security and protective wares and no first aid provision to rely on, giving rise to preventable accidents and pesticide poisoning.
Women agricultural workers are the most socially vulnerable and lack access to social security and protection and it is estimated that approximately 60% of all child labour is employed in agriculture.
ActionAid's Research Findings on Decent Work
In March 2022, ActionAid conducted a research to better position the small holder women farmers and farmer networks to benefit from the existing social protection schemes. The research sought to establish the accessibility, spread and quality of the existing social protection schemes. The scope of the research covered four regions in Northern Ghana, fifteen districts and three hundred communities, with a total of 14,550 small holder farmers participating in the research.
The researched observed that decent work principles have mostly been operationalised from the perspective of the employer rather than by the application of formal policies and ILO standards and collective bargaining principles. The study also revealed that women suffered significant paid employment time deficits since they bore more of the burden of household care.
Only one-quarter of all workers in the study regions are enrolled in some form of social security or pension programme and are contributing towards retirement. The percentage of workers with social security- is even lower among women (21.4%), own account workers (13.1%) and contributing family workers (9.8%). Among workers with social security, about 20 percent are supported by employers while 21 percent are solely self-contributing social security schemes. The study found that only 17 percent of workers thus, an estimated 83 percent of employees mostly in the informal sector do not belong to occupational unions with collective bargaining agreements.
The study found that worker unionisation was more common with formal employment where the main employer was government than in Self-employed and own-account workers. We, however, found that employees in the informal sector were more likely to organise themselves into livelihood or trade-based groupings and associations.
The Role of Social Protection:
Social protection plays a crucial role in promoting decent work by providing a safety net for vulnerable individuals and communities. It encompasses measures such as unemployment benefits, healthcare, pension schemes, and other forms of assistance that protect individuals and families from unexpected shocks and support their well-being. By ensuring social protection, Ghana can mitigate the risks associated with poverty, unemployment, and economic instability, fostering a more inclusive and resilient society.
National Social Protection Policy:
The National Social Protection Policy is a national policy with a cross-sectoral approach. The Policy defines social protection for Ghana as "a range of actions carried out by the state and other parties in response to vulnerability and poverty, which seek to guarantee relief for those sections of the population who for any reason are not able to provide for themselves". To this end, the purpose of this Policy is to deliver a well-coordinated, inter-sectoral social protection system enabling people to live in dignity through income support, livelihoods empowerment and improved access to systems of basic services.
The objectives of the Policy are to: reduce by more than half the proportion of men, women and children living in all forms of poverty; achieve full and productive employment for all, including young people and people with disabilities; and substantially increase access to formal social security for Ghanaians in working age and older persons.
The policy also states that, "in order to reduce extreme poverty, effective and efficient social assistance will be provided with a special emphasis on children, pregnant women, disabled, and elderly, through the implementation of key programmes such as Livelihood Empowerment Against Poverty Programme; the National Health Insurance; Labour-Intensive Public Works Programme as a key social employment strategy; Basic Schools Capitation Grant to promote access to education, social assistance and employment; and the School Feeding Programme to achieve educational participation, nutritional, employment creation and social cohesion purposes."