Improving women's livelihood: The Donkey welfare intervention as a gamechanger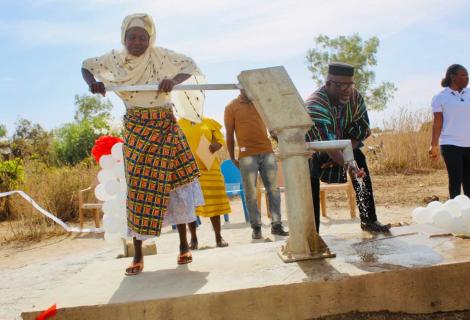 In Ghana, many women continue to face discrimination, and neglect and are under-resourced due to cultural biases. These patriarchy-driven biases inhibit their access to interventions that seek to promote poverty alleviation and gender equality.
Practical session on Donkey and vaccination. 
One of the key challenges facing many women in Ghana's rural communities is their inability to access reliable transport for their social and economic needs. Effective transport infrastructure and services are important catalysts in ensuring the socio-economic growth of a country. Transport is fundamental to ensuring access to generating activities and basic services such as local and regional markets, agricultural extension services, health facilities and schools. Efficient transport increases agricultural production, facilitates greater levels of trade and competition, links people engaged in a range of economic and social activities and reduces the amount of time they spend travelling. It also enhances efforts towards increased productivity.
    Donkeys drinking from the borehole at Nanchala, Upper West region.
For many rural women, donkeys are their convenient means of transport. Donkeys play a critical role in carting water from boreholes, fuel wood, and foodstuff from several miles to the homes of many rural women. To reduce the care burden, enhance women's economic productivity, and boost their income, ActionAid Ghana with funding support from The Donkey Sanctuary has been supporting 54 women groups in 24 communities in the Upper West region with donkey tractions facilities. The 1,620 women beneficiaries have a combined ownership of 2,220 donkeys.
            Veterinary specialists providing healthcare for a donkey at Nanchala community.
This intervention has relieved children of the domestic work burden, allowing them to focus on their education. In addition, women are also able to get enough rest and are contributing to decision-making processes in their communities. Although these women have been working assiduously to increase the number of donkeys, their well-being, health and sustainability continue to be a challenge. Unfortunately, most of these donkeys are exposed to harsh weather conditions, lack nutrition, hydration and face theft due to a lack of adequate and secured shelter.
In Chinchang and Nanchala communities in the Sissala East Municipality, access to potable water has been one of the key challenges adversely impacting the health and proper care of the donkeys. Chinchang is a community with a total population of 943 people. It is located five (5) kilometres southeast of Tumu, the capital of the Sissala East Municipality. The main occupation of community members is farming with a few engaged in petty trading.
Nanchalla community on the other hand has a total population of 286 people and is 20 kilometres from Tumu. Livelihood activities include farming, fishing, hunting, and craftsmanship among others. The people and about 80 donkeys in this community depend on one borehole. The situation left the women with no other choice than to spend productive hours fetching water. To address this, ActionAid Ghana through the support of The Donkey Sanctuary constructed two new boreholes and currently redesigning 24 in the various communities.
          Mariama Braimah of Chinchang community pumping water from the newly installed mechanised borehole
Mariama Braimah is 43-year-old mother of two and currently the chair of the Chinchang 'Similenu' (don't undermine me) donkey women group. Mariam has a donkey she affectionately calls 'Kulamita' which is interpreted as come and set me free. According to her, the community's dependence on the single borehole resulted in constant physical attacks on each other. "Before the construction of this borehole, we used to fight each other when struggling for water. This is because if you have two donkeys, you will need to bring two buckets of water home and that was not easy. With this additional borehole, we don't have to wake up very early in the morning and run to fetch water." she added.
In the Nanchala community, the story was no different. Fati Fuseni, is a 32-year-old resident to her, the borehole has brought a huge sigh of relief to her household. "Before the construction of this borehole, our community had just one borehole. We used to queue for hours to fetch water for my donkey and household use.  But now, when I wake up in the morning, I just loosen my donkey from the rope, and it moves straight to the borehole to drink water. Whoever is at the borehole fetching water will pump for my donkey to drink. I no longer worry about water to feed my donkeys." she said.
      Fati Fuseni speaks about the benefit of the borehole.
Terence Tienaah, Upper West Regional Programmes Manager said, "The Donkey welfare project has been of great help as women involved are assured of improved care of their donkeys through veterinary services, donkey hydration systems and donkey accessories. It is helping women gain knowledge and skills on how to care for their donkeys at the community level. Through the boreholes provided for Chinchang and Nanchala communities in the Sissala East Municipality, the donkeys have improved hydration and minimized the hours women spend in accessing water."
Under the project's education and sensitisation activities, communities are learning to desist from an inhumane way of handling donkeys and are learning animal-friendly and safe ways of communicating with their donkeys without inflicting pain on them." She added.
Through this intervention, ActionAid is working to address the structural causes of poverty to improve the economic rights of women in these communities. 
Written by: Esther Ohenewaa Brown, Communications/PR Manager 
                  Abiba Nibaradun, Project Manager, Improving the Welfare and Sustainability of Donkeys