International Workers Day: ActionAid Ghana calls for a national roadmap to address decent work deficits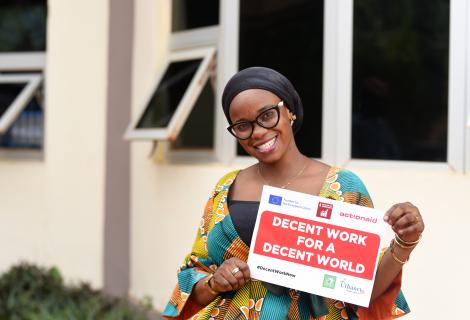 ActionAid Ghana joins the global community to congratulate all workers for their hard work towards Ghana's development agenda and sacrifices to improve their lives and those of their families. As a social justice organisation, we subscribe to the doctrine that human resources constitute the basis for the wealth of a nation and believe that members of the labour force are the active agents who carry forward national development.  
Since Ghana's membership in the International Labour Organisation (ILO) in 1957, the country has ratified about 46 ILO Conventions, exhibiting commitment towards the improvement of labour conditions. Aside these Conventions, the 1992 Constitution of Ghana, Labour Act, Act 651 of 2003 and the Domestic Workers Regulation, 2020 (L.I. 2408) also contain several provisions that seek to promote and protect workers' rights to unionise, work under satisfactory conditions, and protection of the right of a domestic worker.  
Despite these bold steps taken to protect formal and informal workers, the implementation of decent work policies have been constrained by several challenges including inadequate safety at the workplace, wages below the minimum wage of 14.88, and lack of social security or pension programme towards retirement.
Although these challenges are recorded in both formal and informal employment settings, the incidence of child and forced labour, the right to maternity protection, social protection and discrimination against women are higher in the rural or informal economy than in the urban or formal economy.  
These widespread decent work deficits cast doubts on the country's ability to meet the ILO's decent work agenda which involves opportunities for productive work, fair income, social protection for families, better prospects for personal development, ability to participate in decisions that affect their lives, equal opportunity and treatment for women and men.
We believe that the most appropriate approach to address decent work deficits in Ghana, is to develop a national roadmap for the enforcement of decent work principles within the formal and informal sectors to fast-track the country's ability to meet the targets of Sustainable Development Goal 8 which seeks to, "promote sustained, inclusive and sustainable economic growth, full and productive employment and decent work for all."
John Nkaw, Country Director, ActionAid Ghana said: "Indecent work is depriving many vulnerable people, especially women and the youth of their fundamental rights. The Covid-19 pandemic has contributed towards increasing the vulnerabilities of women by dislocating their livelihoods and businesses and making them targets of these indecent work practices and exploitation.
"Government and development partners need to scale up their livelihood skills training and development programmes in order to help women and the youth access secure decent livelihood alternatives."
As we inch closer to 2030, decent work and social protection cannot be relegated to the background, and call on the government to work with stakeholders across all sectors to ensure:
Fair minimum wages and employment standards (including pay equity and pay transparency)
Zero tolerance for child labour and forced labour
Protection of women from sexual harassment and emotional and physical abuses