Parliament Select Committee consider the Anti-Witchcraft Bill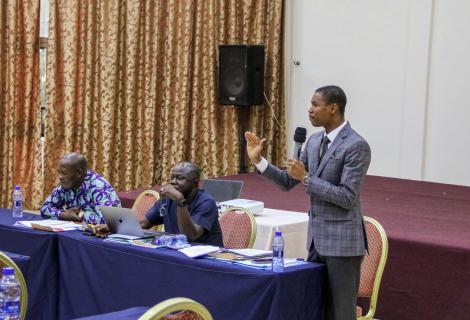 The Parliamentary Select Committee on Constitutional, Legal and Parliamentary Affairs have considered the Criminal Offences Bill, 2022.
The Private Members Bill which is being led by Hon. Francis -Xavier Sosu, Member of Parliament for Madina Constituency, Hon. Godfred Seidu Jasaw, Member of Parliament for Was East Constituency and other members of parliament, seeks to amend the Criminal Offences Act, 1960 (Act 29) to prohibit the practice by any person as a witch doctor or a witch finder; to proscribe the declaration, accusation, naming or labelling of another person as a witch; and for related matters.
Since 2005, ActionAid Ghana has been working in the alleged witch camps to provide livelihood support, train the women to assert their rights and resist violence.
Reacting to the consideration meeting, Eugenia Ayagiba, Women's Rights and Campaigns Manager said, this meeting is a grate milestone for ActionAid's advocacy against the practice of witch hunting. The vulnerable women who have been condemned without trial deserve justice and rights protection. We believe this piece of legislation will go a long way to provide that to them.
The 1992 constitution of the Republic of Ghana provides that every person in Ghana, whatever her/his race, place of origin, political opinion, colour, religion, creed or gender shall be entitled to the fundamental human rights and freedom of the individual. And yet, despite the constitution's clearly stated position on the dignity of all persons; despite the protection it grants all persons in Ghana, hundreds of women in northern Ghana accused of witchcraft by relatives or members of their community are living in 'witch camps' after fleeing or being banished from their homes. The camps, which are home to around 800 women and 500 children, offer poor living conditions and little hope of a normal life.
The women have fled discrimination, threats or even mob justice after being accused of witchcraft and blamed for 'crimes' such as causing sickness, droughts or fires, cursing a neighbour or even just appearing in someone's dream. Those who successfully make it to the alleged witch camps are the lucky ones.
Many women have been murdered or maimed after accusations of witchcraft. In 2010, the case of a 72-year-old woman who was set on fire and killed made headlines around the world. Interestingly, the purported cultural practice, which is violating the rights of women with impunity led to the death of the 89-year-old Akua Denteh who was cruelly lynched in 2020 in Kafaba in the Northern region.
Article 26 (2) of the 1992 constitution states that "all customary practices, which dehumanise or are injurious to the physical and mental well-being of a person, are prohibited." The constitution is further supported by international laws and conventions such as the African Charter on Human and Peoples' Rights (ACHPR) and the Convention on the Elimination of All Forms of Discrimination against Women (CEDAW), to which Ghana is a signatory.