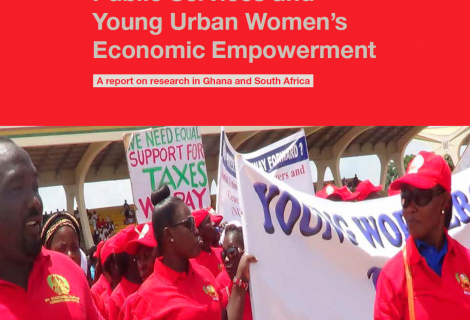 Gender-Responsive Public Services and Young Urban Women's Economic Empowerment: A report on research in Ghana and South Africa
Downloads
In 2016 we worked with the Institute of Development Studies (IDS) based at the University of Sussex in the UK to conduct a research in Ghana and South Africa to examine the relationship between young urban women's economic empowerment and the delivery (or lack thereof) of gender responsive public services (GRPS).
We looked especially at how this plays out in resource poor settings such as urban informal settlements. The idea is to challenge and expand the current discourse around women's economic empowerment to ensure that the structural barriers to women's economic justice are recognised and addressed.
The findings of this report show very conclusive links between provisioning of public services and young women's ability to engage in paid work opportunities. It also shows that the provisioning of GRPS is a critical but missing link that has the potential to economically empower young women. Many young women in Ghana and South Africa face multiple barriers to finding and maintaining a job in the formal economy, which reflects poor or lack of access to some essential services. The report forms part of our effort to call attention to the most pressing issues related to young women's economic security.
Access to quality, affordable and accessible gender responsive public services is a basic human right and the report puts forward a number of recommendations for duty-bearers towards delivering on this.