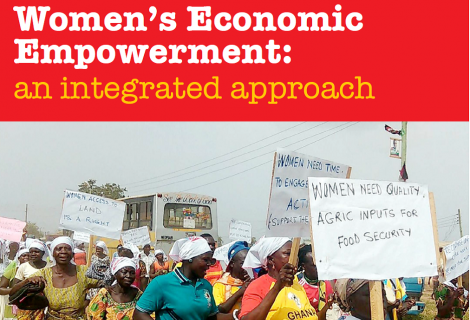 ActionAid's new strategy, Action for Global Justice, continues to place women living in poverty and exclusion as central to our work. One of the four programme priorities of the strategy is to address the structural causes of violence against women and girls and secure women's economic justice.
ActionAid's Promoting Opportunities for Women's Empowerment and Rights (POWER) project, a five year initiative supported by the Ministry of Foreign Affairs, Netherlands, is working towards this priority and towards ActionAid's continued focus of prioritising women in all our work.
Working through local partners in Ghana, Rwanda, Pakistan and Bangladesh, the POWER project is focusing on a number of interlinked areas to achieve economic empowerment for women in rural communities. These areas are: Unpaid Care Work; Climate Resilient Sustainable Agriculture; Access to Markets and Violence Against Women.
The POWER project builds on ActionAid's extensive programme and policy experiences in these thematic areas.
This newsletter is the first in a series aimed at sharing the work of the POWER project over its five year timeframe. How are the women in these communities better able to claim equal access to and control over their time and income? How can we work with others to change the social norms and other barriers that prevent this? How can we share this learning with others and ensure we are informed by others working in similar areas?