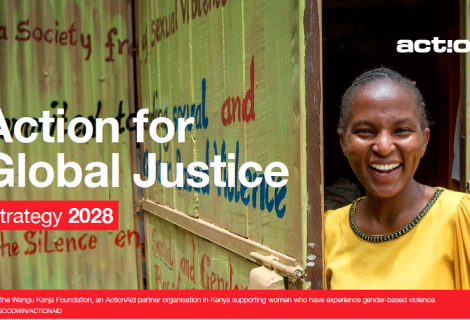 Strategy 2028: Action for Global Justice
Downloads
ActionAid was founded as a charity in 1972, and throughout our history we have innovated and evolved our approach to better address the structural drivers of poverty and injustice. In the 1990s, we adopted a human rights based approach to development, which we continue to apply. In 2003, we established the ActionAid International federation, comprising members in every region of the world, and headquartered in South Africa.
Strategy 2028: Action for Global Justice represents the next step in our evolution, rooting us more deeply where we work, and with the people whose rights and visions we work to achieve. This strategy builds on learnings from our previous strategy, People's Action to End Poverty, our history and practice.
ActionAid staff, external experts and allies worldwide, as well as our partners and the people with whom we work, contributed to this strategy. Our analysis of the external context, our understanding of how change happens, as well as the unique contribution we believe we can make, all emanate from these collective inputs.
Our vision
ActionAid has a vision of a just, fair and sustainable world in which every person enjoys the right to a life of dignity and freedom from poverty and oppression.
Our mission is to achieve social justice, equality, and poverty eradication by working with people living in poverty and exclusion, their communities, people's organisations, social movements and supporters harnessing the Power in People.
Women living in poverty and exclusion are central to what we do. We aim for a fairer share of power and resources, ensuring that women can claim and enjoy their human rights. We work with young people as vital drivers of change. When emergencies occur, we support affected communities and seize opportunities to drive just alternatives, working with communities and broader alliances to transform societies.
Our strategy
Over the next ten years, ActionAid will build international momentum for social, economic and environmental justice, driven by people living in poverty and exclusion. ActionAid will become even closer to the people we work with, involving them more in what we do. We will work closely with other groups that share our values and vision for a just world. Building on our history of successful and ground-breaking local programmes, ActionAid will connect the people, partners and communities with whom we work with broader people's organisations and social movements.
Download the full strategy paper in English, French, Spanish, and Portuguese.  You can also download a summary document in English, French, Spanish, and Portuguese.