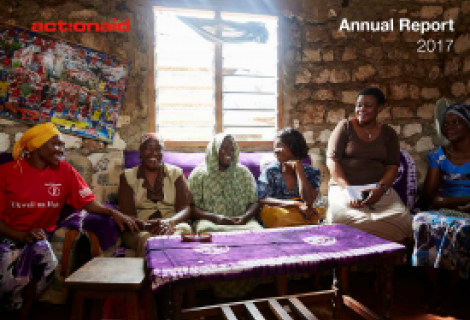 2017 ActionAid International Annual Report
Downloads
In 2017 we began to implement our new 10-year Strategy 2028: Action for Global Justice which seeks to increase the collective impact we make on the big challenges that people living in poverty and injustice face. Our strategy will enable the Federation to further connect community-level struggles with larger national and global alliances and movements for change.
ActionAid and its supporters worldwide helped millions of people living in poverty to make real gains in 2017. Hundreds of thousands of women gained land or income of their own, and stood up to gender based violence. Hundreds of thousands of smallholder farmers learned and put into practice new farming methods that protect them from the impacts of climate change, and conserve precious natural resources. Girls and boys gained free, good quality education in 25 countries, and over half a million people struck by 22 disasters around the world were helped to rebuild their lives and their dignity.
These and other achievements described in this report represent a beacon of hope in a time when life is getting so much tougher for those pushed to the margins of our increasingly unequal societies. This year, marginalised communities and groups were the target of renewed anti-migrant, anti- minority and anti-women crusades by nationalist and populist politicians, with their chances of making a better life eroded by deep cuts to social services. A fresh wave of market deregulation allowed unscrupulous companies to seize and pollute the land of those already economically and socially disadvantaged, and to cut their wages. At the same time, our collective inaction on climate change subjected these communities to a rising number of disasters and emergencies, while their ability to organise and speak up faced a growing threat from authoritarian regimes around the world, persecuting journalists, activists and human rights defenders in increasing numbers – as ActionAid itself experienced last year when we were threatened with closure in Uganda and Pakistan.
The strategy also heralded internal changes, designed to make ActionAid more flexible and agile in order to unlock more of the potential of our 45-country global Federation. Our Global Secretariat became leaner and more focused on enabling cross-country collaboration, learning and impact. The Federation also started to review where and how its programmes operate. At the same time, ActionAid countries and the Global Secretariat continued to support each other to become more efficient through reductions in operating costs, protecting the organisation against future surprises and ensuring our economic sustainability.
ActionAid continued to operate in a challenging financial context. Income from established fundraising markets remained stable but opportunities for growth were limited. ActionAid mitigated this by a sustained programme of support for fundraising in emerging and less-established markets. A particularly inspiring development was that our work with marginalised communities in India was increasingly funded by a mix of Indian and overseas supporters – and the same was true in Brazil, South Africa, Indonesia and Thailand. In 2017 these countries accounted for our strongest growth in supporter numbers and some of our biggest and most popular campaigns. We were also excited about the growing number of strategic partnerships forged with institutional donors and philanthropists to test innovative approaches to fighting poverty.
As we embark on this exciting new chapter, we would like to celebrate the commitment and hard work of our staff, volunteers, partners and allies. We are immensely grateful to the more than 400,000 individuals around the world who supported us financially in 2017, and the one million people who campaigned with us. In a world of growing fear, you chose hope. In a world of unprecedented inequality, you chose to help level the playing field. In a world of toxic divisions, you chose to believe in our common humanity.
The obstacles we face are daunting but with your continued support and the incredible courage and determination of the people and movements we work with, we are confident that together we can achieve even bigger victories and reverse the tide of growing injustice and inequality in the years to come.