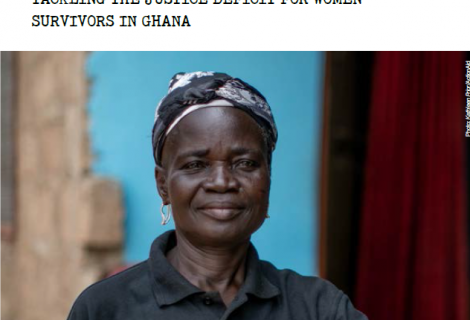 Falling through the Cracks: Tackling the Justice Deficit for Women Survivors in Ghana
Downloads
This research report is part of a multi-country ActionAid campaign on access to justice for women, looking both at the global barriers to justice as well as the specific deficits in each of the four countries the campaign focuses on.
A collaborative report with ActionAid United Kingdom, this report focuses on the experiences of women who have faced gender-based violence and their access to justice.
It makes recommendations on best strategies to assist women have access to justice and hold perpetrators to account. Additionally, it identifies policies, studying them and identifying gaps and lapses that allow perpetrators of violence to walk free, disempowering women and their dignity as well as rights.
In Ghana and for this research, focus group discussions were held with groups of women domestic workers and women who work in bars and restaurants, to assess their experiences of violence in their work and social spaces as well as their experiences with accessing justice. These women experience violence 24 hours a day, 365 days a year, and because of their informal status they are seldom heard and often invisible. In order to ensure that no survivor of violence falls through any cracks, gender-based violence in the
workplace needs to be part and parcel of the decent work agenda and, in turn, the latter ought to be part of the access to justice struggle.