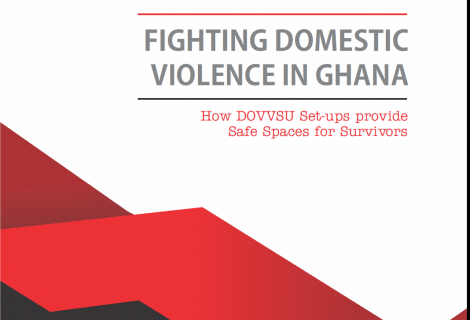 Fighting domestic violence in Ghana: How DoVVSU set-ups provide safe spaces for survivors
Downloads
ActionAid Ghana (AAG) has been working in Ghana since 1990 promoting women's empowerment. AAG's Country Strategy Paper (CSP VI), under the name, 'People's Power for Social Justice', places women's rights and gender equality at the centre of its work. Reducing violence against women and girls is a key thematic area in AAG's programme and campaign work. In this thematic area, AAG mobilises, organises and supports women and girls to actively participate in decision-making processes and empower them to challenge and reject all forms of gender-based violence, while advocating for gender-responsive policies at the national level.
In Ghana, girls and young women are most at risk of gender-based violence, especially sexual violence.
Ghana's first legislative interventions against domestic violence (DV) reflected the global efforts in pushing for women's rights to be recognised as human rights. The Government of Ghana has enacted several national laws to protect women's rights and outlaw violence against women and girls. The Government has also put in place a range of policy and institutional mechanisms to protect girls and women from violence, including the Domestic Violence and Victim Support Unit (DoVVSU) of the Ghana Police Service.
This study, assesses 10 districts/municipal offices of DoVVSU in the Greater Accra Region and ascertain how DoVVSU set-ups provide safe spaces for survivors and how these offices are operationally resourced.