Breaking the kitchen stereotype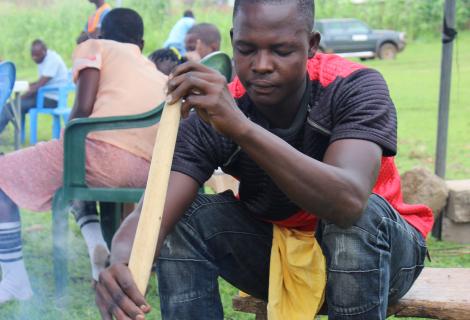 26-year-old Boabil Tenga lives in the Nangodi community in the Upper East region of Ghana with his wife, Lamisi Tenga, and their two children.
A member of ActionAid's Nangodi Women's Group, Lamisi had been inviting him to attend group meetings with her.
The meetings happen twice a month and she has always invited me along. I raised concerns because why should I attend a meeting meant for only women? Lamisi insisted that it was open for men to attend also. I finally accepted to one day and was surprised to see more than 20 men present.
At the meeting, ActionAid's partner in the region, BONATADU, sensitised them on Unpaid Care Work, which refers to the care workload placed on women such as cooking, washing, fetching water, taking care of children, the sick and the elderly, etc.
During the meeting, they gave us time dairies and asked that we fill it. They also took us through the process of completing the card.
Both men and women were requested to identify all the activities we engaged in from the time we wake up, throughout the day, up until we go to sleep and indicate the amount of time we spend on them.
Upon completing his diary, Boabil compared it to his wife's.
After the analysis, I actually felt very guilty.
He realised the amount of care work that was eating up Lamisi's time and energy, work that he had never acknowledged.
All along, my wife had been doing a lot of work without resting, yet all her struggles were contributing to the well-being of our family. This made me begin to appreciate the time she committed to do unpaid care work.
From that day onwards, I took it upon myself to start supporting my wife in the house by going to the mill to grind foodstuff, fetch water, even cooking. Additionally, I also started educating my fellow men to support their wives. Although they saw the practice as a good idea, they cautioned me not to venture into cooking as this was unheard of for men in the community. I brushed off their criticism.
Due to this, my wife now has more time to attend to her food vending small scale business in the market, which brings in additional income to enable us buy food stuff and pay for our child's canteen fees.
In August 2017, ActionAid held a Men's Cooking Competition to celebrate the construction of an early childhood development centre aimed at relieving women of the burden of care and free up time they would otherwise have spent caring for their children, to devote to income-generating activities.
Boabil was one of five men who signed up for the competition
At the end of the cooking competition, I emerged the overall winner and I was awarded with the first prize [full piece of cloth and 2 bars of laundry soap].
That day was the happiest day of my life. This year's festival, I will not buy cloth as I'm going to give this prize to my wife. I have taken it upon myself to continue to encourage my fellow men in my community to offer support to their partners and help with the household chores to reduce the time women spend on unpaid care work.