How Kende fought back child marriage and the trap of teenage pregnancy with education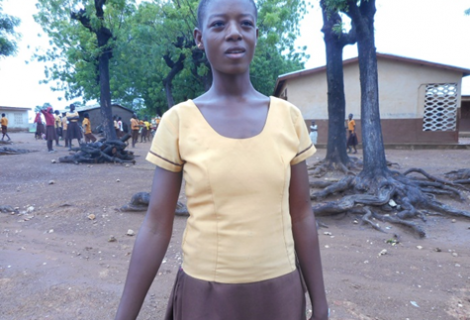 Two years ago, Kende Ayindana was a 16 year old Junior High School (JHS) final year student in Tanga, a small community in the Upper West Region of Ghana. According to her, she loved going to school and had amazing plans for the future.
Today, Kende is an 18 year old mother to a child who will be turning 2 years soon,
I was a student like them
she says, pointing to her colleagues who are seated under the shed of a tree conversing with staff members and partners of ActionAid Ghana,
I was about to complete Junior High School when I got married and dropped out of school
In rural communities like Kende's, stories like these are all too frequent. Discussions with adolescents about sex and control over their bodies are almost non-existent and, sometimes, even considered taboo among parents in rural communities.
At the school level, sex education is not delved into and girls are chastised or tagged as "bad girls" when they inquire about sex and their changing bodies.
The lack of education on sexual and reproductive rights and the absence of infrastructure means that young girls are left with little knowledge about sex and no option in regards to birth control access and use.
In these communities, cases of child marriages are an everyday part of life. Children are married off to older and wealthy men by their parents or family members; girls are stigmatised by the community and family members if they should refuse marriage and even worse, they are abducted whiles walking to school, their education cut short at the whim of any man interested in them. If they should fall pregnant, as is often the case, parents and members of the community disown them and without any livelihood or means of acquiring a living, the girls are forced to marry.
Like most child marriages, Kende's rights were taken away from her by her "husband"
I passed through series of abuse and I regret being a mother at such a younger age. The man I was married to also left me for Accra.
But this is where her story is different.
With motivation from her peers to come back to school and the assistance of her mother who takes care of her child, Kende is back in school fighting for a way to end the spiral of poverty
My friends will tell me about what they are learning in school and at the club meetings, their future dream careers and how education is important. My mother also encouraged me to listen to what my friends were saying. She assured me that she would take care of my baby if I went back to school
Currently, Kende is back in school. And although she had to repeat classes to catch up with her colleagues, she is not swayed but rather determined to make education her top priority
The messages from my friends made me understand that education is the key to my future. I am back in school and in Form Two at Tanga community. My child is one and half years and lives with my mother.
Kende is now a member of ActionAid's Girls' Club and is surrounded by a tight-knit group of girls who understand and know their rights and are not afraid to claim them.
I am no more with the man who deceived me and impregnated me. I am now focusing on my education. I want to advise girls that they should focus on their books and reject the demands of these boys and men who use sweet words to deceive them because education is the key. They should focus on their books.
ActionAid's collaborative End Child Marriage campaign with UNICEF is strengthening girls' clubs in schools by training their patrons and executive members to use a designed girls' club manual in facilitating their club meetings. Where no clubs exist, the campaign is encouraging schools to set up clubs.
The aim of these clubs is to have a platform to discuss and address relevant concerns or challenges girls face. Sessions held during club meetings include making them conscious of their rights, entitlements and responsibilities, as well empowering girls to demand accountability from duty-bearers, including parents, teachers, community leaders and the government.
Editor's note
ActionAid Ghana has been working in rural communities in Ghana to empower girls and restore their dignity by promoting education and rescuing many from child marriages.  Girls like Kende need be supported to pursue their educational dreams and career goals. 
As a social justice organisation committed to achieving social justice, women equality and poverty eradication, ActionAid remains determined to serve as a catalyst to community development and female empowerment.     
Download ActionAid's Girl's Club Manual, which provides a guide for girls, patrons, executive members of the Girls' Clubs and other members for the promotion of human rights, particularly the rights of the girl-child. It is aimed at addressing the capacity needs of patrons and executives in the running and management of the clubs in schools.