Ellen Lindsey Awuku: passionate about youth advocacy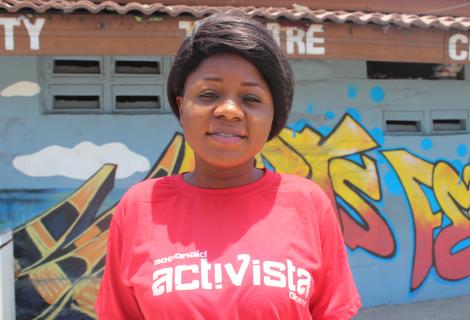 26-year-old Ellen Lindsey Awuku describes herself as a youth advocate and a passionate campaigner for youth inclusion.
Youth have very great potential and I believe that if they are given safe spaces or create spaces for themselves, they'll be able to influence and impact development. This is the reason why Agenda 2030 and Agenda 2063 all talk about the potential of youth and the capability of youth to influence development.
In July, Ellen was part of 120 youth, including members of ActionAid's advocacy network, Activista Ghana, who were trained by ActionAid Ghana (AAG) to demand the implementation of the African Governance Architecture (AGA) and African Charter on Democracy, Elections and Governance (ACDEG) by government as part of the European Union-funded, Mobilizing Civil Society Support for the Implementation of the African Governance Architecture project, popularly referred to as EC PANAF, being implemented by AAG and seven other African countries.
In order to influence policies, you must engage policy-makers. The first step is for the youth to mobilise and strategize on exactly what we want and then proceed to engage policy makers. We also have to give substantial grounds and evidence for which those policies must be implemented. Once this is done, we will have an influence over policies
Ellen believes that ActionAid's youth network, Activista Ghana, is one of the safe spaces for youth to mobilise and campaign for sustainable development hence when she found out that the Greater Accra Regional programme of AAG will be launching its chapter on International Youth Day 2018, Ellen signed up to be part of the two-day Activista Training in Accra at the Jamestown Community Theatre Centre
Activista is a platform that gives youth the chance to be able to participate in the implementation of all these [Agenda 2030 and Agenda 2063], I see it as a worthy platform to join because it gives you the space to influence others and also gives visibility to campaigns
For Ellen, being an Activista means being able to influence people positively
My whole life, I have always wanted to influence people, I just want to enlighten people. I am more environmentally-inclined and Activista is about every other SDGs.
Ellen has great plans for joining Activista
In the next one year, I see myself as being a very great lead in Activista and influencing youth for them to know how we can strategically work to achieve our aim of sustainable development. Personally, I want to reach that stage of leadership to influence people for change and I believe Activista will train me and help me to do so.