Ensuring income generation in urban communities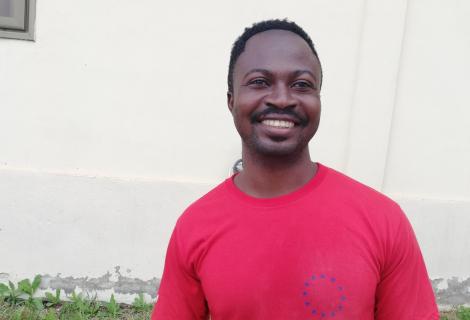 Kwaku Addo, 29 years, was struggling to find employment when he found out about the Sustainable Livelihoods and Transparent Local Authorities (SLATLA) project being implemented by ActionAid Ghana in partnership with the La Nkwantanang-Madina Municipal Assembly (LaNMMA)
The information about the SLATLA training was shared on a WhatsApp group I belong to and I knew this was an opportunity I couldn't miss
Funded by the European Union, the SLATLA project is targeted at providing livelihood and skills training in plumbing, tiling, embroidery, ICT, plastic waste management, poultry feed, mushroom, grasscutter, vegetable, and poultry farming to the youth, and is targeted at women, men as well as Persons Living With Disabilities (PLWDs) between the ages of 18-40 years aimed at increasing their economic independence.
I initially wanted to be part of the ICT training class but received a call that the Assembly had reached the maximum number of beneficiaries for that training and since I had always wanted to start poultry farming, I decided to sign up for that training.
The training was very educative. We were about 50 people and met regularly. During the period, we were taken through broiler and layer chicken farming, feed for the chicks, as well as educated on ensuring a thriving environment for the chicks. We were divided into groups of five or six people based on our various locations. I live in Madina as does the rest of my group members. After the training, the Assembly informed us that they would be providing us with something special
On Tuesday, 27 November 2018, ActionAid Ghana, working with LaNMMA, handed over the 'special' things- starter packs consisting of sacks of poultry feeds, fertilizers, protective gears, day-old chicks, vaccinations and other items, to beneficiaries of the SLATLA poultry and poultry feed trainings.
I am amazed at the amount of starter packs each group has received and I am grateful for the support shown to us by ActionAid, the Assembly and the EU. In fact, I never expected that the support they will be giving us would be so immense. I am simply overwhelmed
Kwaku Addo believes that working together with his group, they can expand their poultry business and make enough profit to begin their individual farms in the future.
It's been a very good day and I'm happy to receive these toolkits to help my group and I start work on our poultry farm. My group leader, Eddie Joseph, and all of us are excited about the future. Of course, I am expecting a lot of challenges and setbacks, but I know for certain that with all the trainings and the provision of the starter packs, we can only succeed
The Sustainable Livelihoods and Transparent Local Authorities (SLATLA) project is also being implemented in 25 communities in the Sunyani West district of the Brong Ahafo region in partnership with the Sunyani West District Assembly and 15 communities in La-Nkwantanang-Madina Municipal Assembly (LaNMMA) in the Greater Accra region with funding from the European Union.