"I can't remember the last time I heard a woman cry because her husband or a man has beaten her."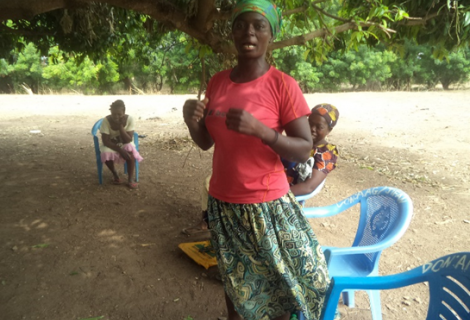 The Promoting Opportunities for Women's Empowerment and Rights Project (POWER) project has not only been empowering smallholder women farmers but also combatting Violence Against Women and Girls (VAWGs) in promotion of their rights, an issue Agnes Angtooromwin, the organiser of ActionAid's Women's Group in the Ping Sungbaala community in the Upper West region says has been declining since the implementation of the 5-year project launched in 2017de
Wife-beating use to be very rampant in this community before the project intervention. Previously, women did not have free time while some were being prevented by their husbands from attending meetings. Women had no access to lands to farm. We always wanted places to farm but were cultured to understand that we have to be working on our husbands' farms. Thanks to the POWER project, women in this community are now very happy
Agnes also adds that her confidence has been built as a result of the various training and sensitisation workshops
Now, due to the confidence building trainings given to us and the community sensitizations on the rights of women, many women in this community are now confident to demand their rights and resist abuses from men. Our husbands don't maltreat us any longer because they are afraid we will take them to CHRAJ [Commission on Human Rights and Administrative Justice].
The POWER Project, funded by the Ministry of Foreign Affairs of the Netherlands, also focused its efforts on engaging with men and advocating for their help in redistributing and taking on their share of the responsibilities of care work.
I can't remember the last time I heard a woman cry because her husband or a man has beaten her. Our husbands now provide grains for food and still add money for grinding the flour and to buy ingredients which used not to be so.
Agnes added that ActionAid's rural community, trained human-rights groups, the Community-Based Anti-violence Team (COMBAT) had also help in combating violence against girls in the community.
COMBAT and the Anti-Violence Platform work to rescue girls from child marriages and this has helped our girls to go to school and stay to complete without getting married at a very young age. Abduction of girls here for marriage is also non-existent due to the work of COMBAT and the Unit Committee.
ActionAid taught us how to advocate for land and it has worked for us. Right now, if we want 20 acres of land from the elders of this community we will be given. We used to be so occupied with house work but now that the project has educated our husbands on the negative effects of women doing all the work, some of the men are filling the time diary cards and this is helping them appreciate the volume of work that women do daily in our homes which was not even recognised before.

Now my husband helps me to cook and bath the children and even send them to school. When my husband even hears of a meeting for women in the community, he will quickly come home and inform me to go and attend due to the benefits the family gets from such meetings. We used to support our husbands to farm but women never had any control over the proceeds. But now we are allowed to put up our own farms and when we work on our husbands' farm, the woman is consulted and knows how profit is being used.