Meet Kafui, an advocate of women's economic empowerment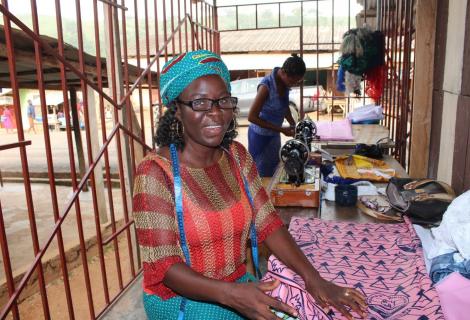 Kafui Cardigah Kwadade, 45 years, lives in the Avornyokope community in the Kadjebi District of the Oti Region.
A staunch advocate of ActionAid's Unpaid Care Work (UCW) campaign, the bubbly mother of three says her life has taken a turn for the better after she underwent training on UCW provided by ActionAid's partner, Network of Community Development (NoCID).
"I have been a seamstress for over 23 years and was even sewing before I got married. My first child is 23 years and I have had to combine my dressmaking practice with motherhood. Honestly, it was not easy. I don't fall into the typical role of women in our local communities because my husband, who used to be a government worker, has always been supportive with the household chores and helped out in cleaning the house, cooking and taking care of the children. In turn, I also contributed to the upkeep of the home. However, I never used to make time for myself. I was always working hard for others; for my family, my clients, everyone but myself until the Unpaid Care Work training.

Through the training, I learnt effective book keeping and trusting the man to take up the responsibility of sharing the workload at home. More importantly, I learnt how to invest in myself. As a result, I started paying myself monthly. I had never done that before. My dressmaking business makes profit but I have always invested it into my children's school fees, supporting my husband with the utility bills and several other needs. It had never occurred to me to also pay myself and I will admit it was a different experience. After the training, I begun to give myself monthly stipends and out of that I have been able to save enough and purchase my own piece of land.
I have always raised my children, who are all boys, to be helpful at home from a very early stage and even when some neighbours objected to them washing dishes and sweeping because they were boys, I never heeded. This was made easier for me because my boys had a good role model aside their parents. My oldest boy had a teacher who would go to the market to carry things for his mother, a market woman, and help her out in the market after class every single day so this was normalised for my son who looked up to the teacher. Now, he is a university graduate, self-sufficient and doing his national service. He can cook and take care of himself because we raised him to.

Even more empowering for me, was the training on active participation in decision making at the community level we received from ActionAid. As a result, I stood for the position of Assembly Woman in the Estate Zongo community during the Assembly elections. Even though I did not win, the confidence-building trainings will have a lasting effect on me."