No schools under trees in Sakote anymore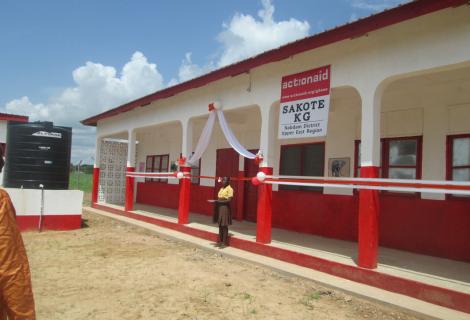 When ActionAid Ghana (AAG) begun its work in Sakote, located in the Nabdam District of the Upper East region of Ghana, the community lacked several basic amenities and infrastructure.
Conditions in the primary and junior high schools were very poor with inadequate teaching and learning materials, desks and chairs for students. 
Children in the community did not start school early because there was no kindergarten school block. And when they did start kindergarten, they were forced to sit under trees in the scorching sun and at the mercy of the weather, exposed to droppings from birds nesting in the trees above them.
Additionally, there were no toilets and urinals for the children. This forced them to ease themselves in the open, which contributed to an unhygienic environment and health problems.
One of AAG's strategies for tackling poverty is ensuring access to basic education for children which includes providing infrastructure, teaching and learning materials, influencing education policies, holding government accountable on access to education for children in poor, rural communities and sensitising parents and community members on the importance of education.
In 2017, Sakote benefited from ActionAid's education-driven strategy through the construction of a kindergarten and early childhood development centre.
Equipped with two classrooms, an office, and a toilet facility as well as 32 different types of teaching and learning materials and 168 tables and chairs, the school now has all the amenities to provide education to children in the Sakote community and its environs.
8-year old Janet Kurugbon now enjoys going to school.
At first, I didn't like coming to school because of the sun and the rain but now, I come to school every day because there is a beautiful classroom for me and my friends.
Following the construction of the kindergarten block, intake of kindergarten pupils has increased with more parents enrolling their children in the school.