The skills training that changed William's life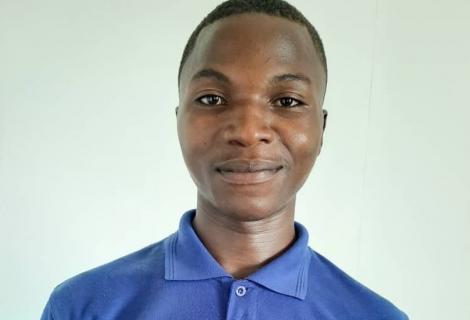 When William Kuma completed his Junior High School studies, he did not have the money nor the support to further his education. As a result, he decided to understudy a mason since his father was in that profession. His plans however changed when a friend informed him of an ICT training.
This ICT Training was part of a skills training under ActionAid's, Sustainable Livelihoods and Transparent Local Authorities (SLATLA) project.
William and other beneficiaries were taken through a three-month intensive, practical training provided by experts from the National Institute of Information Technology (NIIT).
After the training, 23-year-old William received an appointment from a major corporation but faced prejudice.
I was rejected because they said I was too young.

I didn't give up and went back to NIIT for further training under the mentor-mentee programme of the project for two months. I started working part time with some schools as an ICT teacher as well as engaging in ICT extra classes at home. I later pursued a job as a security guard at a company in Madina but was helping them with their computer repairs with the knowledge I had acquired through the training. I later decided to cancel the contract with the security company and pursue ICT full time. I took an online course in computer programming and hardware to improve on the skills I acquired during the SLATLA trainings.
William's resilience paid off and he secured a full-time job in ICT, but he is far from done, as he has plans to be an entrepreneur.
"I have acquired a shop and very soon, I will start my own ICT company. SLATLA has been of most help to me because I got the opportunity to study in a field that has now changed my life forever."
Editors' Note: The ICT Training forms part of skills training under ActionAid's, Sustainable Livelihoods and Transparent Local Authorities (SLATLA) project. Currently being implemented in collaboration with two District Assemblies; the La Nkwantanang-Madina Municipal Assembly (LaNMMA) and the Sunyani West District Assembly, the project has been providing agribusiness (mushroom, vegetable, poultry and grasscutter farming as well as poultry feed processing) and artisanal trainings (ICT, tiling, plumbing, embroidery and plastic waste recycling) to youth, women and People Living With Disabilities (PLWDs) in 45 communities in these two districts.
The project is funded by the European Union and it is aimed at the increasing growth of local economies as well as generating revenue for local authorities to fund the provision of public amenities.