Soyabean khebab training empowers Delali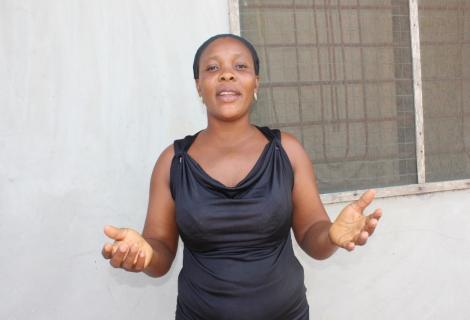 Delali Kpomida lives in the Hobor community in the Ga South Municipality of the Greater Accra region of Ghana.
A member of ActionAid's group, the Mawupase Women's Group in the community, the 30-year-old mother of four, along with other group members, benefitted from livelihood and skills training from ActionAid last year.
Unemployed prior to joining the women's group, Delali says she was motivated to join because she was aware that ActionAid's women's groups were supported with economic and skills training,
I had no other business except the subsistence farming which I occasionally engaged in. After being a member of the group for a while, ActionAid visited us during one of our meeting days to ask us about the livelihood skills we were interested in. Options included snail rearing, bar and liquid soap-making, pastries [bread and meat pies], bead making and several others.
The Group voted to undergo soyabean khebab training and a few days later, the training commenced, led by a representative from the Department of Food and Agriculture.
The training was very practical and afterwards, my sister, Florence, and I decided to start making soyabean khebabs to sell. We were supported with a loan of Ghc30.00 [about $5 USD] from the group's coffers. We bought all the ingredients we needed and started selling the khebabs. Soon enough, we had made enough profit to pay off the GHC 30.00 loan and still had enough to continue the business. We started with one "olonka" [about 2.6KG] of soya beans, later we started buying two olonkas of soya beans. Just this week, we made enough profit to buy one sack [about 62KG] of soya bean at a cost of Ghc 250.00 [about $48 USD]. Aside selling it in our community daily, we also take orders for funerals and other events, which has helped our business grow
To Delali, joining ActionAid's women's group has enabled her to have a source of livelihood.
I feel empowered and can support my four children when the need arises. We will appeal to ActionAid to bring more livelihood trainings for us women because the lands for farming are being taken over by sand winners, so we need other sources of income.