"The training has been great so far"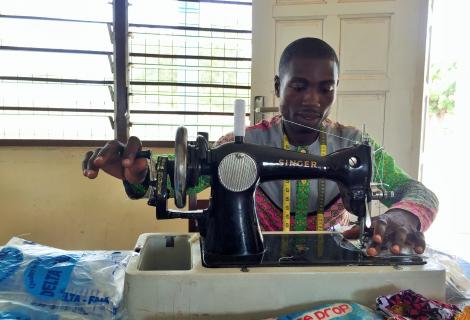 says Richard, a beneficiary of ActionAid's skills training
Richard Acheampong lives at Oyarifa Teiman, one of the fifteen communities that falls under the scope of the La Nkwantanang-Madina Municipal Assembly (LaNMMA) in the Greater Accra region.
Earlier this year, Richard signed up to be part of beneficiaries of a Plastic Waste Recycling training under ActionAid's collaborative project with the Assembly after a friend recommended it to him.
Prior to joining the training, I did not know how to handle a needle and thread, much more sew but just three days of joining the training, I was sewing and learning the different types of stitches. I can confidently say I can even make my own clothes because of the skills I have acquired.
Previously working with a financial institution, 30-year-old Richard says he was underpaid and overused and as a result, was forced to quit.
It is difficult to find a job that pays well or does not over use you. There are no jobs so companies take advantage of workers.
Unemployed and actively searching for a job, Richard worked as a pastor and was in desperate need of an income-generating activity.
A friend of mine was part of the first batch of the project training and made a bag from empty water sachet bags. She gave it to me and every time I used it, I would receive compliments on it. People were fascinated and attracted to the bags and always asked me where I got it from. I realized that there was a market for these sachet bags and decided that I will sign up for the next training, so I could learn and sell them to make a living
The training forms part of the Sustainable Livelihoods and Transparent Local Authorities (SLATLA) project which has an overall aim of boosting the growth of the informal local economy by providing skills training in agribusiness (mushroom, grasscutter, poultry feed and poultry farming), artisanal (embroidery, plumbing, tiling and plastic waste recycling), and ICT (hardware) trainings to youth, women and People Living With Disabilities (PLWDs) as well as supporting the local assemblies to increase revenue mobilization and accountable taxation for development at the community-level
For Richard, the week-long Plastic Waste Recycling training, although challenging, has been worth it.
The training has been great so far. The instructors have been kind and hardworking.  However, I think the duration of the training is good for people who already know how to sew but for some of us, we will require an additional one week or more to master it.
After the training, I will make samples and use as a way of advertisement. I believe this will attract people to patronise my products. Once I give them good prices and value for their money, they will in turn recommend me to others.
Pure water bags have become litter in our community and society because everybody uses it but do not dispose of it properly. This is a great and innovative way to use them-whilst making money too! I will announce the livelihood trainings organized by ActionAid at church this Sunday so that the youth who are idle will take advantage and learn skills to support themselves financially.