Yagzure Tibonkena Women's Group take matters into their own hands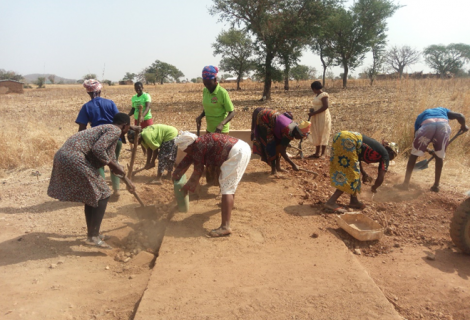 Yagzure is a small rural community in the Talensi District of the Upper East region of Ghana. It is part of the 42 communities beneficiating from ActionAid Ghana's, Promoting Opportunities for Women's Empowerment and Rights (POWER) project.
Under the Dutch Ministry of Foreign Affairs-funded, POWER Project, most of the women in the community have been mobilised and formed into a group known as, Yagzure Tibonkena Women's Group. The women, aside their farming activities, are traders who sell and buy various products mainly from two markets in the capital, Bolgatanga and Tongo. During the rainy seasons, majority of these women cultivate vegetables, plying the only feeder road in the community that links to these two markets to sell their vegetables.
Three years ago, one of the culverts in the middle of the road broke down, making movements to these two markets difficult for the farmers and forcing them to divert from the feeder road unto a muddy path. Vehicles often got stuck on this road and at the peak of the rainy season, the road became unusable for any vehicle. As a result, the women were not able to access the two markets to sell their vegetable produce.
This forced most of the women out of their vegetable farming business as they could not cultivate for fear of not being able to sell their produce. Those who took the risk had majority of their produce go to waste due to the poor road network which prevented them from accessing the markets.
During a sensitisation meeting organised by ActionAid and its partner in the region, Widows and Orphans Movement (WOM) with duty bearers and members of the Women's Group, the women raised the issue with local government officials to seek support for interventions and budgetary allocations in August 2018.
The women also followed up at their District Assembly, formally presenting their demands to the Assembly. Soon after, the Assembly begun repairing the broken culvert. However, after waiting for two months for the contractors, who had gone on break, to return and complete the repairing process, the Yagzure Tibonkena Women's Group took it upon themselves to fill up the road and complete the reconstruction process.
Baan Atindanpoka, Chairperson of the Group admitted that although it was not their responsibility as taxpayers to fix the road, they were very happy about their ability to do the work for themselves,
We are very excited that through our own efforts, the road has been fixed for us again. This year when the rains start, we can cultivate our vegetables to send to the markets without any transportation troubles.
She also added that the benefit extends beyond the group,
Our children will be able to cross to go to school freely without fear of getting dirty in the mud.