Empowering Women like Hellen to Enhance their Livelihoods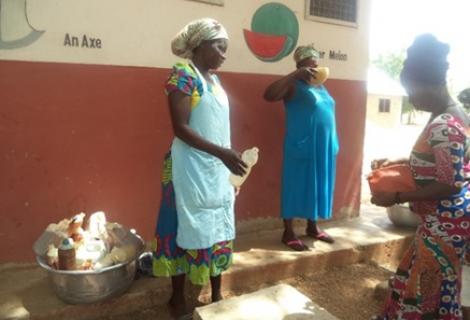 When Hellen Bazieredire signed up to receive training on customer relations and business
management skills, she didn't know it would impact her business and life as much as it has.
A member of the Tizza Numbo Women's Group in the Jirapa District of the Upper West
Region, she was recording very low sales for her locally-brewed drink, "pito"
"Previously, my surrounding was always dirty. I could brew the pito and keep it for more
than three days without getting anyone to buy. When I finally managed to sell it, my sales
could not pay for the expenses incurred in brewing it because I was not getting a quick
market and was not very good at managing money."
Hellen was part of women trained by ActionAid on financial management, diversified
income streams, customer relations, and good book-keeping.
 I have realised that cleanliness and politeness can help you get a good market for your
product and not "juju" (spirituality) as we previously believed. Now, I clean my house very
well including the area I brew and sell my pito. I also buy groundnut from other markets
and come to Tizza and Jirapa markets to sell. When I send my goods to the market, I put
on a cheerful face throughout, whether I get buyers or not. Due to my cheerful nature and
good relationship with everybody I meet in the market, I am able to get buyers for my
groundnuts before the close of the market, sometimes even early in the morning
We have also been taught how to use techniques of farming like compost preparation, use
of neem-tree extracts to control pest and mixed cropping. I have adopted these practices
and I get good yields. We now know the type of land on which to farm groundnuts, beans,
maize, and our harvest has improved.
Hellen also received support to reduce the burden of care work as part of the Ministry of Foreign Affairs-funded, Promoting Opportunities for Women's Empowerment and Rights (POWER) project.
The cooking stove I received from ActionAid has reduced the amount of energy I used to
cook my food and stopped me from cutting firewood from the forest."