"I wanted to be part of those helping"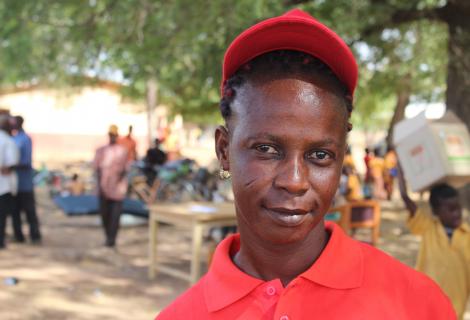 Maame Akanzunah lives in the Builsa North District and was one of the people hardest hit when the October 2019 torrential rains caused severe flooding in the Upper East region, leaving damaged properties and over 20 dead people in its wake.
My house collapsed, and my children and I have had to resort to sleeping on the cold floor in one of the rooms that is still standing. The water carried almost every valuable thing away.
Grappling to make ends meet, Maame joined those affected to register with the National Disaster Management Organisation (NADMO) in hopes that she would receive support.
When the 35-year old smallholder farmer and mother of five found out her community was part of those selected by ActionAid to receive food stuff, sleeping materials and hygiene kits during its Humanitarian Response in the region, she offered to help the team with the distribution of items, identifying those who lost their homes including women, children and the aged who had been devastated by the rains.
She helped the team to distribute the relief items too
I know how the rain has affected people and knew I wanted to be part of those helping.
Maame also received her share of items for herself and her family,
It is the [sanitary] pads that make me happy. I have a daughter and so knowing that when she menstruates, there will be something for her to use gives me relief.
With funding from Start Fund, over 1,000 community members in 10 out of the region's 15 districts were provided with mattresses, pillows, buckets, sanitary pads, buckets, water, sacks of rice and oil, slippers and shito (chili sauce), with mothers and guardians of ActionAid-sponsored communities and members of its women groups in affected communities receiving cash support.