I was afraid for my children when the water started rising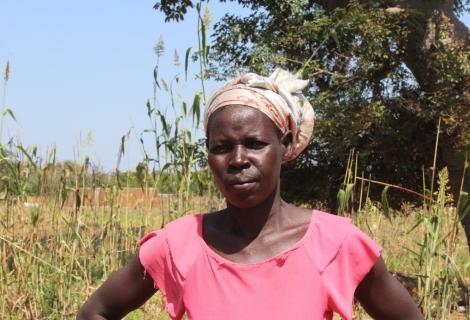 Adek John is a 38-year old nursing mother and smallholder farmer who lives in the Kasiesa community in the Builsa South District with her husband, Kofi Akanpuri and their four children.
The community is one of the poorest in the region with a majority of inhabitants engaged in farming. The houses in the community are mostly made of clay because it is cheaper than cement which is more durable.
As a result, when torrential rains occurred in October 2019, causing severe flooding in the region, the community was one of the hardest hit.
"I was afraid for my children when the water started rising," says Adek
"I never expected something like this would happen to us because it never rains around this time of the year"
"When the rains started, we were very surprised because it is not common for it to rain in October but because the weather has been very unpredictable, we hoped that it would end soon," adds 40-year old Kofi Akanpuri.
It did not, raining heavily for three straight days and lightly for an additional five days.
"The water was rising, and some other homes had already fallen"
Luckily for the family of six, they had noticed the foundation of their home weakening along with several cracks as the rain intensified.
"Immediately we noticed the cracks in our sleeping room, I decided that we had to leave and so the next day, we all packed what we could carry and moved in with some family members as the water kept rising. The first structure to fall was the storeroom, which was where we kept all our food. After that, the bedroom also collapsed"
For Adek, the flood has been particularly devasting for the family
"The hardest part is getting enough food to feed the children."
Kofi, representing his family was supported with 3 bags of 5kg rice, 4 bottles of 1-litre oil, two sanitary pads, a bucket, blanket, pillow, and a mattress and two bags of water
"It makes me happy that today, the children will have enough food to eat and something comfortable to sleep on"