ActionAid wins EU #ChangingLives video competition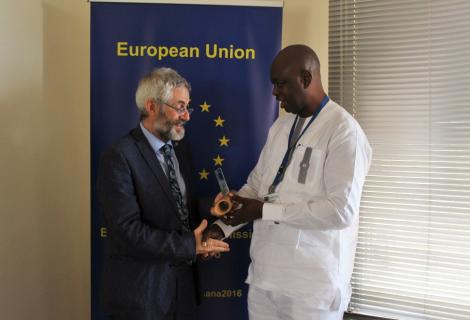 ActionAid Ghana has emerged overall winner of the 2018 EU Week Video Competition held under the theme, #ChangingLives
Highlighting the story of Paul Kadja and his family, AAG's entry, titled, "Paul's Story: Changing Lives with Mushroom" walked away with two awards; the overall Special Award for the Best Video Most Appealing to the European Public as well as the Best Self-Produced Video.
The less-than-three-minutes feature video focuses on the life of Paul Kadja, a 31-year old farmer, who underwent training on mushroom farming, provided by the La Nkwantanang-Madina Municipal Assembly, with funding from the European Union in Ghana and assistance from ActionAid Ghana, under the Sustainable Livelihoods and Transparent Local Authorities (SLATLA) project.
The empowering story, details how the interventions being enrolled on by SLATLA is tackling the issue of youth unemployment, it also offers insight on how interventions indirectly benefit members of the community by engaging with Paul's partner, Theresa Tamakloe, who has also been impacted by the training her husband underwent.
In a speech delivered by Paolo Salvia, EU Chargé d'Affaires at the Reception for Europe Day on Wednesday, 9 May 2018, Mr Salvia echoed the importance of the theme of the video competition,
The resulting videos showcase how our partners in the field and their projects are 'changing lives' (this was the title of the competition) for many citizens in Ghana.
Sumaila Abdul-Rahman, Country Director of ActionAid Ghana, during a private meeting with the EU delegation reiterated the commitment of ActionAid Ghana to working with the EU
We are a federation of over 40 countries and in Ghana, our commitment to working with the European Union in creating employment opportunities for the youth, women and people living with disability through skills trainings in collaboration with local authorities, as is being achieved by the SLATLA project, is made evident and true through stories like Paul's. I can guarantee that this win does not only impact on ActionAid Ghana, but across all ActionAid countries. It is very exciting to emerge overall winner and we obviously could not have change lives like Paul's without effective collaboration with the La Nkwantanang-Madina Municipal Assembly and the EU
Overall, 13 entries from other non-governmental organisations, including ActionAid Ghana, were received during the #ChangingLives EU Video Competition challenge.