Medicor Foundation representative pays working visit to ActionAid Ghana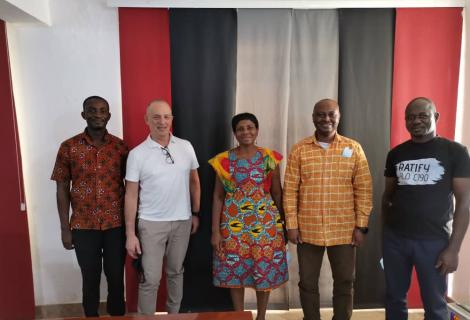 Robert Bruh, Research Project Officer, Medicor Foundation an independent and charitable foundation based in Liechtenstein, has paid a working visit to ActionAid Ghana (AAG) for discussions on its funded project and other potential areas of partnership.
He noted that his visit was to assess the impact of the Medicor Foundation funded Providing Employment Opportunities for Young People in Ghana Project (PEOY)- a project which has successfully equipped over 500 young people in four districts (Asutifi North, Mion, Sagnarigu and Talensi) in the Northern, Upper East and the Brong Ahafo Regions with livelihood skills training.
The PEOY project is in line with AAG's Mission Priority two which focuses on addressing the root causes of violence against women and girls, reduce unpaid care work and promote decent work.
The beneficiaries -(362 females and 169 males) were selected with the support of key stakeholder institutions such as the Ghana Enterprises Agency (GEA) formerly National Board for Small Scale Industries- NBSSI and National Vocational and Technical Institutes.
In his welcome remarks, John Nkaw, Acting Country Director of AAG, noted that over the years the organisation has stayed focus on its niche by working with people living in poverty and exclusion to achieve social justice, gender equality and eradication of poverty.
He further commended Medicor Foundation for their partnership towards the implementation of the Providing Employment Opportunities for Young (PEOY) People in Ghana Project-
Presenting on the successes of the project, Malik Gbene, Monitoring and Evaluation Manager of AAG, noted that to ensure sustainability which is the hallmark of ActionAid, beneficiaries are trained on effective business management and the use of social media for business growth.  
Reacting to the presentation, Mr. Bruh commended AAG for the successful implementation of the project as well as the well thought through sustainability plan.  
He further noted that his visit to the communities where the project is being implemented, will primarily focus on engagement with beneficiaries and trainers to ascertain how the project has improved their economic status.  
The meeting was attended by the Acting Head of Programmes, Margaret Brew-Ward, Sponsorship and High Value Manager, Emmanuel Baidoo and Communication and Public Relations Manager, Esther Ohenewaa Brown.