Engagement with traditional leaders on access to land yields results for women's groups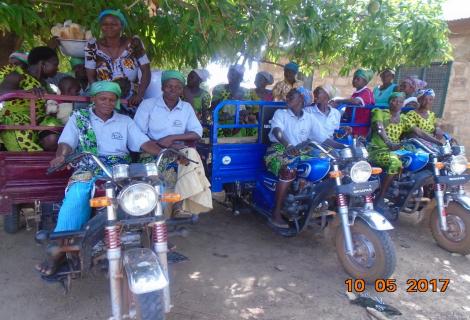 In 2016, ActionAid Ghana assisted its women's group in the Jirapa District of the Upper West Region to meet with chiefs and elders of their communities to discuss women farmers' access to land.
In all, 12 community sub-chiefs interacted with 500 women farmers on access to lands and other productive resources for rural women farmers.
Following this meeting, the chiefs and landlords, referred to as 'Tindaana' from the Tizza, Mwofor, Ulkpong and Nindor-Wala communities in the district assured the women groups from their various communities of access to secure and productive lands for their agricultural production activities.
The Tizza Divisional Chief urged men in his community to allow women to have access to land and charged 12 sub-chiefs under his jurisdiction to promote and implement his directive.
Additionally, to set an example for his people to follow, the chief led the two women's group in his community to a parcel of farm land and asked them to demarcate any size they would like to use for their farming activities.
Currently, the women are preparing to mark out the land and get it documented appropriately to guarantee security for the land.
This means that seven (7) ActionAid women's groups, consisting of 224 women smallholder farmers, and 276 other individual women farmers will have secured access to land that will enable them adopt various Climate Resilient Sustainable Agriculture (CRSA) practices for improving soil fertility, sustainable water management, and enhanced agrobiodiversity conservation.
This will have an impact on their economic independence through increased income levels.
The assurance and dedication of traditional authorities in these communities to safeguarding access to land for women, despite the highly patriarchal system, is as a result of the knowledge of rights analysis that the women's groups received with support from project field officers and community facilitators under ActionAid Ghana's, Promoting Opportunities for Women's Empowerments and Rights (POWER) project, which is being funded by the Dutch Ministry of Foreign Affairs.
Using the access and control matrix, as well as other Participatory Rural Appraisal (PRA) tools, POWER has equipped smallholder women farmers with the skills to engaged with landlords and community chiefs, following the emergence of secured access to land as a major issue among smallholder women farmers.
All the women groups have been encouraged to get proper and lawful documentation of the lands, with signed agreements or title deeds to guarantee the security of the lands they have been given.
Similar rights analysis also indicate how women, particularly those living in rural communities, are overburdened with care work, including commuting on foot for long distances to market centres with loads on their heads.
Using time diaries, women of the Ebanapare Women's Group in the Ul-kpong community, who are into agro-processing, were able to document how much time they devote to care work and its effects on their livelihood as farmers. Equipped with this knowledge, the group engaged with the Ministry of Food and Agriculture (MoFA), under the Northern Rural Growth Programme, securing a grant that provided them with three tricycles for their community.
The tricycles have significantly reduced the burden of over 300 women farmers in the community and is generating income for all 32 members of the group.