Communiqué from the Africa Climate Week, 18th - 22nd March 2019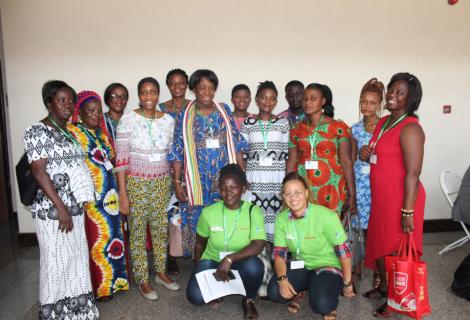 Introduction
The 2019 Africa Climate Week held in Accra under the theme, "Climate Action in Africa: A Race We Can Win" was reported to have brought together around 3,000 participants including governments' delegations, policy makers, academics, Civil Society, Private Sector Actors, Farmers, youth activists among others. The summit was supposed to be a platform for African governments to deliberate on their climate actions in the run up to the UN Secretary Generals Climate Summit to be held in New York in September 2019.
The design of the summit and the deliberations however put much priority on carbon markets and insurance with less talk on real nature-based solutions and almost nothing on agroecology. Through various actions however, ActionAid and CSO allies numbering over 45 organizations most of which were members of Alliance for Food Sovereignty in Africa (AFSA), managed to strategize together with a clear demand for agroecology to be at the center of Africa climate actions.
KEY ACTIONS
Among the key actions that the CSO group jointly employed to raise our voice for agroecology in the summit include:
Development and Release of a CSO joint statement
In the development of the CSO joint statement, ActionAid's Op-Ed (Open Editorial) and an article developed for a newspaper publication, were relied on for the CSO joint statement. This therefore ensured that the joint statement was informed by our analysis of feminist intersectionality of climate actions, including how climate change exacerbates women unpaid care work, access to productive resources and the denial of girls' education. https://www.vanguardngr.com/2019/03/climate-change-african-govts-urged-to-speak-one-agro-ecology-language/ (Statement also attached)
ActionAid and the CSO group used media including print, radio and TV to raise concerns about how the Africa Climate Week discussions were putting emphasis on market-based approaches and economic instruments including carbon markets, climate insurance schemes, mitigation etc, at the expense of adaptation and agroecology. We collectively made a strong case for agroecology to be placed at the center of climate actions in Africa. Whiles two colleagues from CIKOD and PFAG were hosted in the studios of Joy News of the Multimedia Group, Tontie and a woman farmer were also at Ghana Television (GTV) and Uniiq FM of radio Ghana, where they were hosted on a morning show programme for similar discussions.
Our demands have also featured quite prominently in many online publications on the Summit. Some links of the publications are listed below.
https://www.graphic.com.gh/features/features/balancing-mitigation-ambitions-with-adaptation-placing-agroecology-at-the-center-of-climate-action-in-africa.html
About two and half square meter's board was stage at the entrance to the conference hall for the collection of signatures of government delegations and participants in support for the call to put agroecology at the center of climate actions in Africa. Over 300 signatures were collected across different categories of the participants including governments delegations, UNFCCC representatives, academia, private sector actors etc.
The CSO mobilization has given an opportunity for building and sustaining alliance around agroecology and food sovereignty advocacy for federation members in Africa. The vibrancy of the young peoples' movements and organizations particularly offers a unique opportunity for connecting the federations work on agroecology, food sovereignty and Climate Justice with the youth constituents. Federating the women farmers movement in Ghana is required for their active engagement in promoting agroecology and food sovereignty and climate justice. The members of the women farmers movement who participated in the summit, got the opportunity of networking with other like-minded groups they could build alliance with for their federation, as the leader of the National Smallholder Women Farmers' Movement, Victoria Gbande remarked "we got the opportunity to meet with other people we can work with as women farmers. It's a good opportunity to network with them on the issues affecting women farmers"
Side Event on Theme Promoting Agroecology for Climate Action in Africa
As part of the week-long actions, a side event was held on the 20th of March on the theme; "Promoting Agroecology for Climate Action in Africa." The event brought members of the National Women farmers Movement, Youth leaders across Africa, Activista Members and other lead Civil Society Organizations who have been working and advocating for agroecology for decades. Lessons and experiences across the continent on how agroecology, as a nature-based solution and key climate action in building the resilience of communities and farmers was shared.  The main objectives for the side event were to:
Advocate for recognition, adoption, and funding of agroecology by governments as an alternative action for climate change
Share experiences and lessons of successful agroecology practices that are climate resilient
Launch   the African agroecology campaign
An academic researcher hired by ActionAid Ghana (AAG) shared a presentation on Policy Mapping on Agroecology in Ghana. Three panelists provided their remarks about the presentation and discussed the following questions or issues.
A woman farmer from Ghana shared her experiences and practices of agroecology from community perspective.
 How do we shift from financing for chemical based subsidy programmes like the case of Ghana to more climate resilient practices such as composting, mulching and promoting indigenous and seed sovereignty?
General learning and sharing of experiences of what agroecology entails and how state governments should prioritize it and provide adequate resources for financing and adaptation measures.
The event was attended over 100 participants from other CSO networks, Young people and women farmers.
Distribution of Organic Fruits
Over 1000 packs of organic oranges and bananas were distributed to participants of the summit on the 20th of March which was the day of the high level session with the president of the Republic of Ghana opening the session. A symbolic presentation of the organic fruits was made to the Secretariat of UNFCC at the event with strong demand for agroecology to be placed at the center of Africa's Climate Actions.
A pitch hub was organized by Alliance for Food Sovereignty. the hub was attended by youth leaders, farmer groups, AA, CIKOD, FPAG and all members of the alliance. https://afsafrica.org/wp-content/uploads/2019/03/PRESS-RELEASE-AFSA-Climate-Change-Campaign-Launch-Final.pdf
AFSA used the pitch hub to launch their multi-country campaign on agroecology. The campaign is expected to be carried out in 10 African countries and will seek to mobilize over 10 million people for the promotion of agroecology.
AFSA agroecology campaign launch at the Pitch Hub
There was a route march led by Ghana Youth Environmental Movement (GYEM) and drew together all the CSO allies including and youth participants across west Africa and Ghanaian women and farmers movements. The route march saw the hundreds of youth and farmers marching in solidarity through some principal streets in Accra and ended at the conference center with a presentation through YOUNGO to the UNFCCC secretariat.
ActionAid staff, women farmer leaders and youth activists ended our engagement at the Africa Climate Week with some Reflections, which are listed below:
Involvement of Female Extension Volunteers in agroecology campaigns
Expand the national women farmers movement in Ghana membership to other interested women and people in different sectors/professions to make it more vibrant since issues of food and agroecology concerns all not only farmers.
In subsequent meetings, participants should arrive at least two or one day earlier for briefings and preparations, so they can contribute more meaningfully in the formal deliberations
Support/train staff and other alliance members to understand the technicalities in major areas of policy advocacy in climate justice
Youth pledge to see farming as a livelihood's opportunity and business for them with agroecology lens for production
Continue to build more strategic alliance with AA constituents and other partners
Create a hashtag for agroecology campaign
Support women farmers to organize themselves independent of AA and connect to more movements and alliance
AA countries to plan for in-county conversations during the September UN climate negotiations and December COP
Overall the week offered us with an opportunity to deepen our relationship and for alliance building with other organizations and partners and demonstration of AA value throughout the week with joint mobilizations and events. Our key constituency, women farmer leaders testified it was an eye opener for them as well as getting the opportunity to share their experiences. When feasible, we raised critical issues in the plenary sessions which were otherwise quite focused on market-based solutions to climate change.